Introduction
NVIDIA's brand new RTX 4070 has finally arrived on the GPU scene, hitting the market at the start of April of 2023. Many consumers including us here at GeekaWhat were expecting a 4060 or 4060 Ti SKU which would fall in line with the RTX 3000 launches, but NVIDIA have thrown us a curveball.
AMD have yet to provide an alternative to the majority of the new SKUs, so NVIDIA are able to dominate this space with little to no competition. This raises the question, is the RTX 4070 looking to be the king of mid-range options? Or has NVIDIA yet again launched another GPU, that is bound to flop?
In this GPU Versus battle we'll be delving into these very questions by comparing the RTX 4070 against one of the previous generation titans – the RTX 3080. We're taking a look at performance metrics, value proposition, architecture, and pricing to see which GPU is a better option in the current market.
Suggested Article: NVIDIA GeForce RTX 4070 Review (Founders Edition Benchmarks)
GPU Versus Battle
NVIDIA GeForce RTX 4070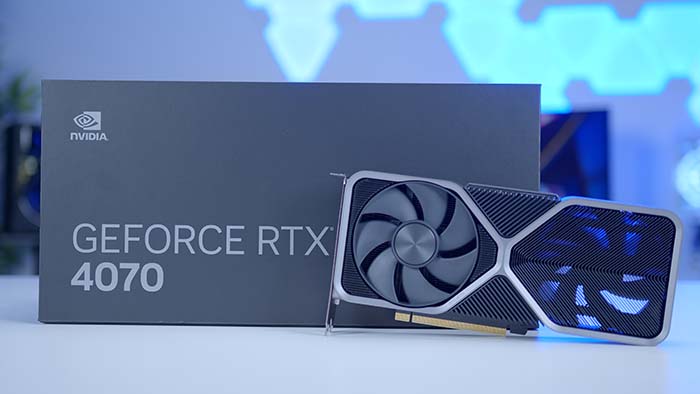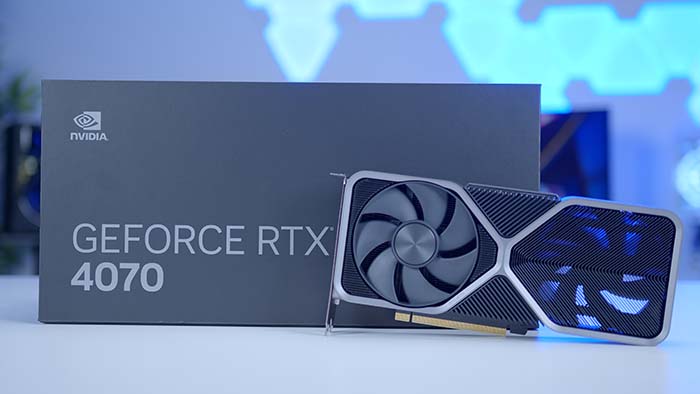 | | |
| --- | --- |
| Memory Capacity | 12GB GDDR6X |
| Boost Clock Speed | 2.4GHz |
| RT Cores | 46 |
| CUDA Cores | 5888 |
| TDP | 200W |
| Release Date | April 2023 |
| Price | Check Price on Amazon |
The RTX 4070 looks to be the anchor that can right the proverbial ship that NVIDIA have been sailing. After a pretty lacklustre set of exorbitantly priced graphics cards, the vast majority of consumers have been feeling that the new cards were a bit of a lost cause. The RTX 4080 and 4070 Ti although strong performers, have been sitting at a price that only enthusiasts can really afford.
However, the RTX 4070 looks to be changing this for the better. With a slightly weaker set of specs contrasting to the RTX 4070 Ti, this GPU looks to be a strong performance at both 4K and 1440p, with decent legs in Ray-Traced titles too. Consumers can expect performance to sit on par with an RTX 3090 or 3090 Ti, with NVIDIA's pillar technologies providing significant uplifts in areas where this is possible. Frame Generation provides free frames in a number of select titles when enabled, and the improvements to DLSS can help at higher resolutions. This also can help with the overhead that comes with Ray-Tracing.
Moving onto pricing, it is worth noting that this card isn't what you would class as cheap. $600 for a graphics card is still a lot of money, but the price of this card is a massive step in the right direction for NVIDIA. We were expecting a near $700 price tag, but Team Green have decided to launch this GPU with an MSRP of $599, which I'd argue is more than reasonable. You're getting 3090 Ti levels of performance for a price tag of over half, which is the biggest selling point of this GPU. It also gives us some optimism when it comes to further SKUs released by NVIDIA later this year.
NVIDIA GeForce RTX 3080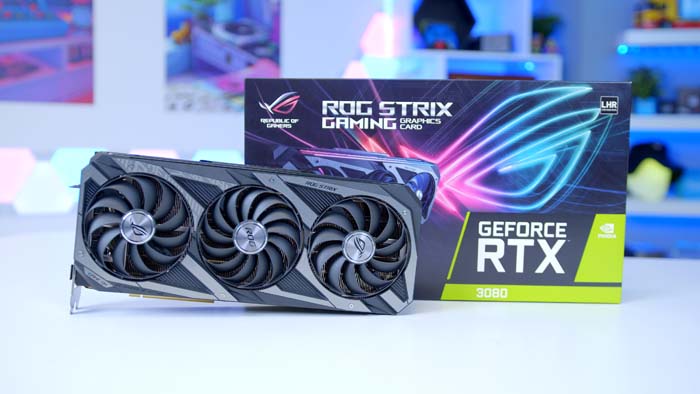 | | |
| --- | --- |
| Memory Capacity | 10GB GDDR6X/12GB GDDR6X |
| Boost Clock Speed | 1.71GHz |
| RT Cores | 70 |
| CUDA Cores | 8704/8960 |
| TDP | 320W/350W |
| Release Date | September 2020/January 2022 |
| Price | Check Price on Amazon |
NVIDIA's RTX 3080 was one of the titans from the RTX 3000 generation of graphics cards. Sitting at a similar price tag to the RTX 4070, this card is a heavy hitter in the 4K and 1440p gaming spaces. As the first card to release within the range, there were concerns that this card would be a weak option, but it seems NVIDIA offered a solid card that serves as the foundation for the RTX 3000 series.
Performance wise, as I've alluded to above, this card can handle 4K and 1440p with ease. It does have slightly weaker legs in Ray-Traced titles contrasting to other available options, but the performance is pretty strong all around. The RTX 3080 can handle workstation applications too, making it ideal for productivity systems. DLSS also can provide some uplift to framerates here too, reducing some of the overhead that comes with playing games at higher resolutions. Consumers won't have access to the new Frame Generation technology, but DLSS 3 is available on the RTX 3080 graphics card.
Pricing wise the RTX 3080 has an MSRP of $699 which was pretty reasonable at the time. The 3080 SKU isn't particularly easy to pick up at this price point anymore, especially as the Founders Edition cards aren't really in stock. The RTX 3080 is a pretty solid option for the price, but securing one of these cards can be both pricey and difficult. We do recommend this GPU, but you'll have to contend with the more expensive AIB options from alternative vendors. The RTX 3000 cards are still a worthwhile consideration for many consumers, but stocking is a pressing issue for the older cards.
Lovelace vs Ampere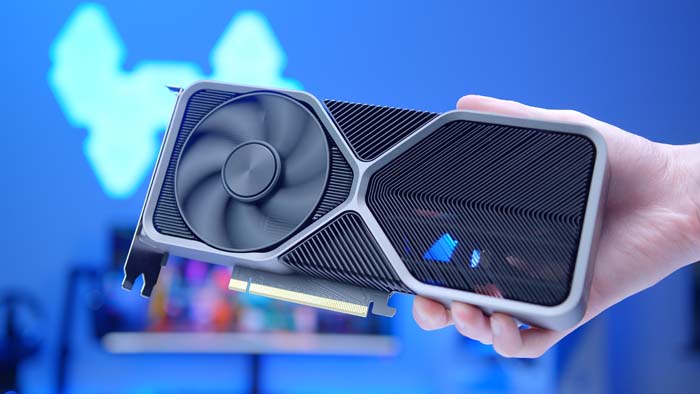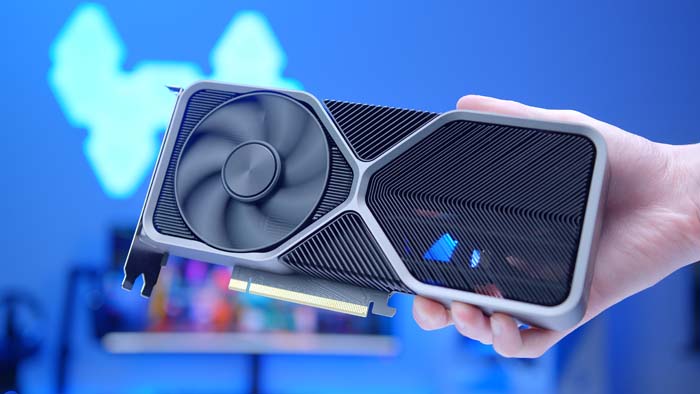 NVIDIA Lovelace Architecture – RTX 4000
NVIDIA's Lovelace architecture is the newest version that the RTX 4000 series of cards use. The new architecture saw big changes contrasting to the previous generation, evolving performance across the board. The latest cards offer increase RT, CUDA, and Tensor core counts, improving processing for both games and workstation applications. Clock speeds also saw a big increase, with all of the RTX 4000 cards sitting at the 2GHz mark when boosting, which will speed up data processing too.
Alongside the hardware improvements, we've also seen massive improvements to DLSS, with DLSS 3.0 popping up in certain games, with the amount of titles increasing rapidly. These improvements reduce latency and increase framerates all whilst minimising the overhead for your GPU. Frame Generation is also a major part of the Lovelace architecture, which uses AI to insert individual frames. Lovelace is the definitive winner when comparing architectures and performance improvements, but as we'll discover later on, RTX 3000 GPUs are still competitive offerings in this space.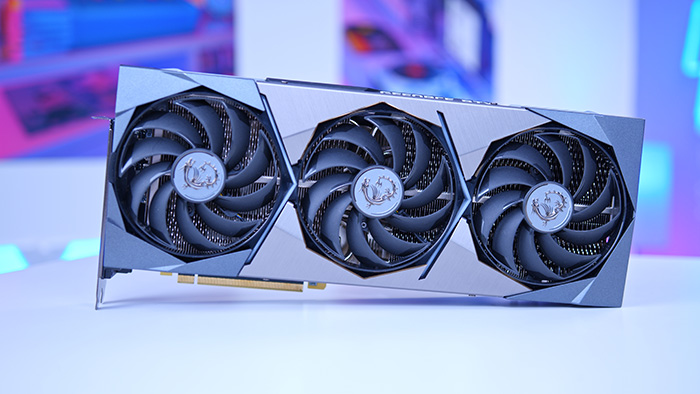 NVIDIA Ampere Architecture – RTX 3000
NVIDIA's previous generation architecture was known as Ampere, which is effectively the foundation for the newest Lovelace-based architecture. Ampere impressed everyone at launch, NVIDIA were able to bring massive performance improvements, all whilst keeping costs at a reasonable price. Cards at the top-end and budget-end all received major boosts in performance, allowing consumers to play modern titles with very few hindrances. These cards are also some of the best multifaceted options on the market, and are perfect for workstation systems.
Aside from hardware improvements, DLSS and Ray-Tracing also became major selling points for NVIDIA within this particular generation of GPUs. We saw DLSS enter its second iteration, and many new games started incorporating Ray-Tracing for consumers that wanted to enjoy games at a higher visual fidelity. Although Ray-Tracing was somewhat limited to the top-end cards, it is still worth acknowledging the improvements to this technology at the lower-end. Needless to say, the RTX 3000 series of cards was a bit of a 'golden age' for NVIDIA, and I imagine it'll be quite a while before we see graphics cards of similar value enter the market again.
Our Favourite RTX 4070 GPU
1. NVIDIA GeForce RTX 4070 Founders Edition
👑The best overall option.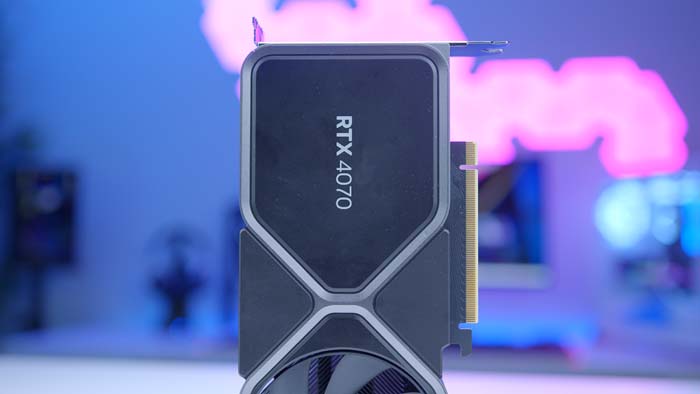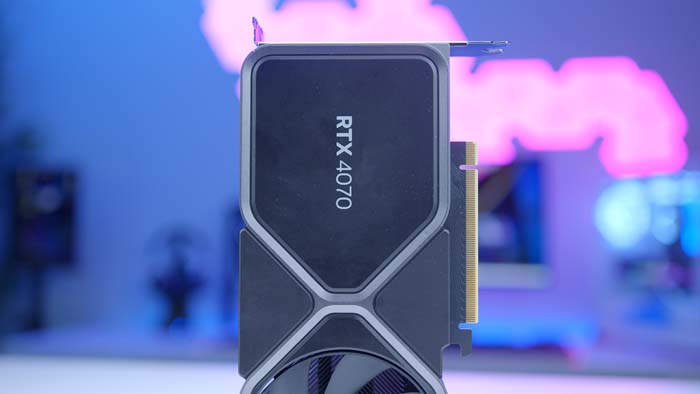 Introduction
NVIDIA's Founders Edition cards within the RTX 4000 range are extremely competitive offerings, and the RTX 4070 Founders Edition is no exception. These cards sit at an MSRP price point, whilst still providing relatively strong cooling capability for consumers planning to play games, or use their GPU in a workstation system.
Admittedly the Founders Edition cards are a little bit weaker on the design front, but I feel most consumers won't be worrying about this too much based on the price point. This card also doesn't have any RGB either, which will be a bit disappointing for those looking to add some flair to their PC build. However, the Founders Edition RTX 4070 is a much smaller option compared to some AIB models, and won't limit your case choices, making it perfect for those building a compact or smaller form factor system.
Key Specs
| Spec | NVIDIA GeForce RTX 4070 Founders Edition |
| --- | --- |
| Base Clock Speed | 1.92GHz |
| Boost Clock Speed | 2.47GHz |
| RT Cores | 46 |
| CUDA Cores | 5888 |
| Wattage | 200W |
Things We Like
Great price point: The RTX 4070 sits at a pretty reasonable price point to begin with, but the benefit of picking up a Founders Edition card, is that you can pick them up for MSRP, making this card perfect for price conscious buyers.
The smallest option: NVIDIA's RTX 4000 range of cards have been pretty massive, but the 4070 seems to be the SKU where NVIDIA are not only dropping the price, but the size too. The Founders Edition 4070 sits at a length of 250mm opening up plenty of options when it comes to case choices.
Things We Don't Like
Doesn't offer much in terms of design: The biggest caveat to picking up a Founders Edition card, is that they're quite plain when it comes to aesthetic. If you're looking for fancy colours and lighting, you'll want to take a look at other options.
May require an ATX 3.0 power supply: All of the new RTX 4000 cards feature the ATX 3.0 standard which can pipe up to 600w of power in one cable. If you're looking to avoid adapters and minimise cable management you'll want to consider picking up an ATX 3.0 PSU, which can be quite a pricey option.
Summary
NVIDIA's GeForce RTX 4070 Founders Edition is the most well-rounded option for consumers looking to pick up a GPU for the least amount of money and the least amount of hassle. It comes in at a great price point, sits at a smaller size contrasting to other options, and has great thermals overall. Definitely worth considering if you're looking to play games at 4K and 1440p with few extra steps.
Features: 4/5
Design: 3.7/5
Performance: 4/5
Value for Money: 4.2/5
Pros
Excellent price point.
The smallest 4070 option.
Strong thermals.
Cons
Aesthetic doesn't offer much.
ATX 3.0 PSU is a requirement to avoid the adapters.
Where to Buy
Buy the NVIDIA GeForce RTX 4070 Founders Edition on:

Our Favourite RTX 3080 GPU
2. Gigabyte Gaming OC WATERFORCE RTX 3080
👑The best cooled option.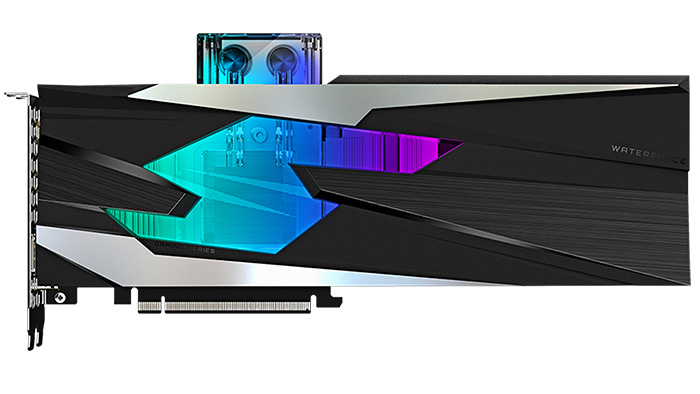 Introduction
For our favourite RTX 3080 graphics card, we've picked out Gigabyte's Gaming OC WATERFORCE edition. This card is the pinnacle of cooling, performance, and aesthetic offering an exceptional design with a mass of additional features. The biggest strength off the WATERFORCE cards, as you can probably imagine, is that they're designed for optimal cooling capability.
This particular model has had any external fan shrouding entirely removed, and this has been replaced with a waterblock. This waterblock attaches to the 3080, and spreads water around the various channels that sit across hot parts, such as VRMs, or capacitors. On top of the cooling capability, this card looks absolutely gorgeous. The signature AORUS design combined with the excellent RGB lighting makes this card ideal for consumers looking to build a PC that has plenty of flair.
Key Specs
| Spec | Gigabyte Gaming OC Waterforce RTX 4080 |
| --- | --- |
| Base Clock Speed | 1.44GHz |
| Boost Clock Speed | 1.8GHz |
| RT Cores | 68 |
| CUDA Cores | 8704 |
| Wattage | 320W |
Things We Like
Perfect for custom loops: The Gigabyte OC WATERFORCE 3080 is primed and ready for a top-end liquid cooled build. Gigabyte have done the hard part when it comes to replacing the GPU shroud, allowing you to easily install tubes across your system.
Looks excellent: Gigabyte also know how to design a great looking card, and the WATERFORCE RTX 3080 is no exception. The signature AORUS design can be seen across the entire card, and RGB can light up this card like a Christmas tree.
Things We Don't Like
Rather expensive: As you can probably imagine, this card is pretty expensive. Because Gigabyte have adapted this card to fit within a liquid cooled loop, the high quality machining and design definitely adds to the overall cost.
Requires consumers to build a custom loop: As we've sort of alluded to, this GPU is perfect for custom loops, but as such it doesn't come with any fittings or tubing. Consumers will end to spend the extra on extra components to support a custom liquid cooling loop.
Summary
Gigabyte's Gaming OC WATERFORCE RTX 3080 is perfect for consumers looking to build a thermally efficient system with plenty of flair. This card does require some extra knowledge and cost due to the need for a custom liquid cooling solution. But once assembled, the performance and thermals of this card will be well worth the money.
Features: 4/5
Design: 4.5/5
Performance: 3.8/5
Value for Money: 4/5
Pros
Ideal for a thermally efficient system.
Great aesthetic.
Boost overclock will improve performance.
Cons
Very very expensive.
Requires consumers to purchase and assemble a custom liquid loop.
Where to Buy
Buy the Gigabyte Gaming OC WATERFORCE RTX 3080 on:
How We Tested the RTX 4070 and 3080
At GeekaWhat HQ we're fortunate to have a plethora of components come through our doors each month from a range of manufacturers and brands for us to test, assess, and review. Due to this, we've devised a solid testing and evaluation method to ensure that all components and products perform as expected, and whether they offer a strong value proposition. Our standardised testing methodology involves firing up the latest and greatest games from our benchmarking suite, whilst recording the in-game settings that we've used.
Once we're ready to record our gameplay, we fire up MSI's Afterburner to record thermals, utilisation, and framerates. We also use NVIDIA's Frameview software to ensure framerates are the same across the board, and to get an average FPS. Frameview gives us percentile rules that allow us to provide an average that we can use for data entry and graphs.
Our full benchmarking suite consists of a myriad of popular games, such as: GTA V, F1 2022, Fortnite, Apex Legends, Battlefield 2042, and more. We always keep with popular games on the market so that consumers can find performance metrics in their favourite games. Both the RTX 4070 and 3080 have been put through the wringer in a multitude of games, alongside productivity benchmarks to get a well-rounded idea of how these components would fair in a multifaceted workstation system. You can find all of the full benchmarking runs on our component testing YouTube channel – Benched.
Gaming Benchmarks
In this section of the article, we'll be looking at some gaming benchmarks to see where performance lies. We've provided some comparative graphs so that consumers can see performance differences between current and older GPUs. As always, our full gaming benchmark runs can be found on the 'Benched' YouTube channel, where we've tested a myriad of components in a massive range of games!
COD Warzone GPU Winner – RTX 4070
For our first benchmark, we tested out COD Warzone at 4K high settings. The winner of this particular round seems to be the RTX 4070, offering an average framerate of 108FPS. This is pretty strong performance at 4K, ultimately we'd like to see this GPU hit the 144Hz sweet spot, but the 4070 isn't quite able to reach that mark. Consumers will need to dumb down some in-game settings, and possibly the resolution in order to reach that buttery smooth refresh rate mark.
The RTX 3080 on the other hand offered a sub-100FPS framerate, offering up an average of 97. Again, this is more than playable, but as we get closer to the 60FPS mark, the overall smoothness will start to diminish to a degree. COD Warzone is quite unoptimised which is why framerates are a little bit lacklustre here, but consumers can still expect a solid gameplay experience with minimal stuttering and tearing.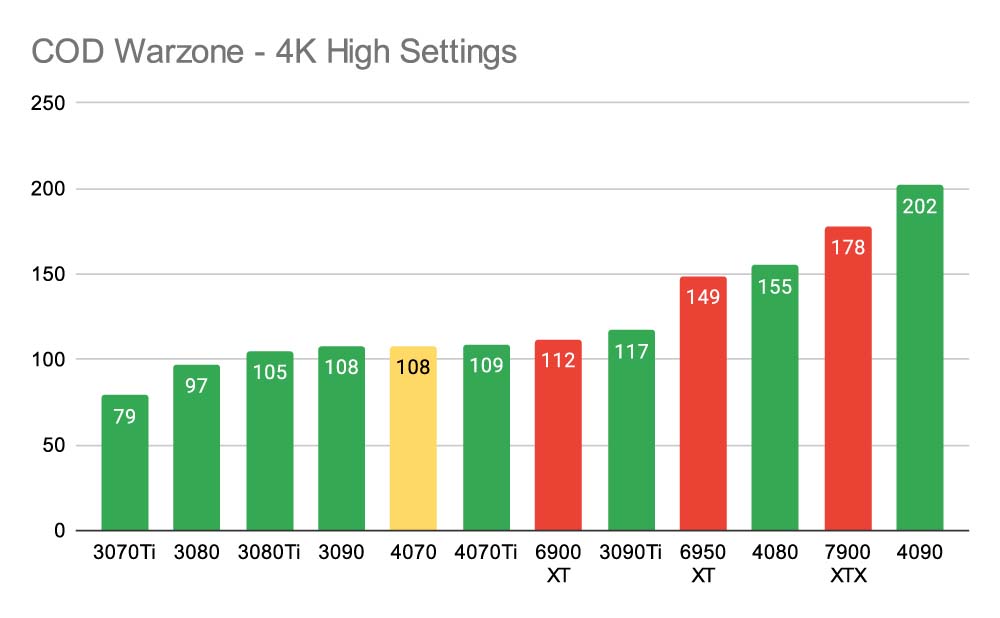 Battlefield 2042 GPU Winner – RTX 4070
Next up was Battlefield 2042, with the RTX 4070 winning this round. In this title, we saw the RTX 4070 output an average of around 93FPS which was slightly weaker performance than we expected. Nonetheless, the average framerate that we did see was still more than playable, sitting well above 60FPS for the duration of the whole benchmark. Again, we'd love to see this gameplay reach the 144Hz mark, but I feel most consumers would have to dumb down a lot of settings in order to achieve consistently high framerates in this title.
The RTX 3080 shares a similar story, with framerates unfortunately sitting a fair bit below the 100FPS mark. The 3080 was able to offer up an average of around 82FPS, which is around a 10 frame difference compared to the RTX 4070. Ultimately the difference would be relatively negligible, but the RTX 4070 is a clear winner when it comes to numbers. Much like Warzone, Battlefield 2042 is also very unoptimised and even the most powerful GPUs tend to suffer to a degree, so this is likely why the 4070 and 3080 are struggling.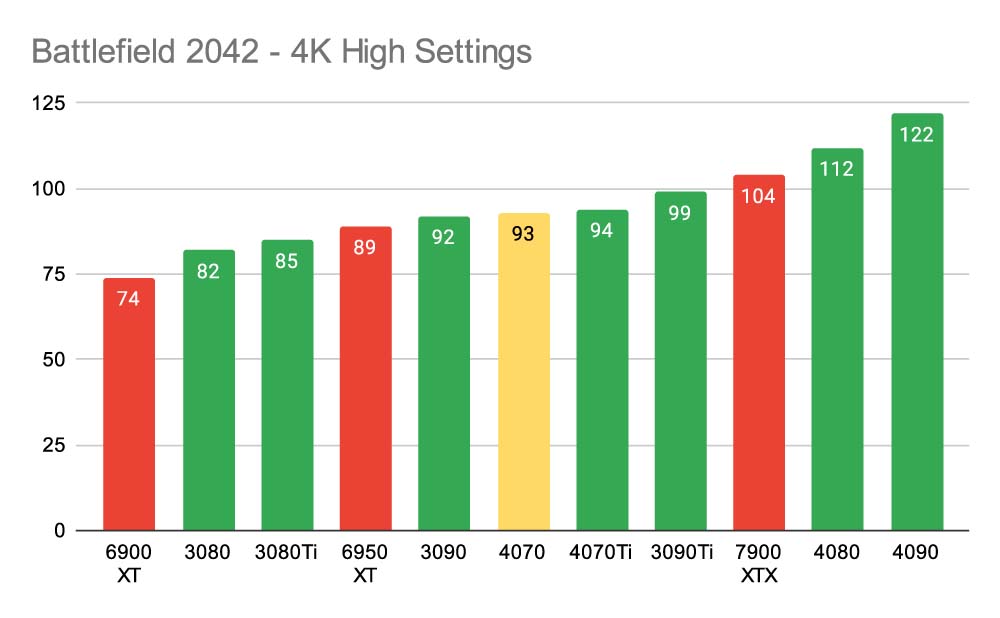 Apex Legends GPU Winner – RTX 4070
In Apex Legends unsurprisingly, the winner of this round was also the RTX 4070, but a consistent theme tends to be occurring with the RTX 3080 coming relatively close when it comes to performance. The RTX 4070 was able to output an average of 136FPS, which is just shy of the 144Hz mark. By messing around with some in-game settings, users are likely to be able to reach the buttery smooth refresh rate mark that we all love to see.
The RTX 3080 offered up an average of around 119 frames, which was still pretty strong overall. Again, I feel messing around with some in-game settings will allow consumers to reach the pivotal 144Hz mark here. Apex tends to be a little bit more forgiving performance wise which is why we're seeing some overall improvements in the framerate. Both of these cards still held up relatively well, but there is a clear winner if you're looking for the most amount of frames.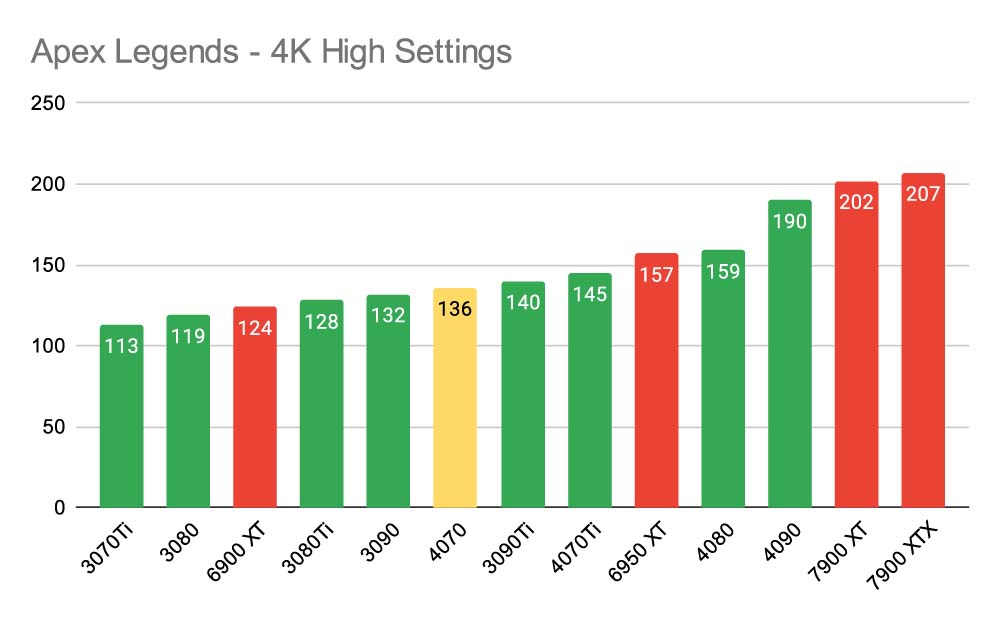 Fortnite GPU Winner – RTX 4070
For our final benchmark we tested out Fortnite at 1080p, and dialled the settings back to Competitive. This allows us to see what kind of framerates we can reach with all of the settings turned down to ensure we can get the best performance possible. The RTX 4070 was able to reach an average framerate of 288FPS which is more than playable, whilst allowing consumers to enjoy extremely high refresh rates.
The RTX 3080 wasn't extremely far behind offering an average framerate of 265FPS, which is around a 23 frame difference compared to the 4070. Again, consumers will be able to enjoy a super smooth experience on high refresh rate displays with effectively no hindrances. Overall we were very happy with the performance from both of these cards. It is worth noting that at framerates this high, the overall difference would barely be noticeable, but if you have a monitor that can surpass 240Hz, you might be able to see a small difference in smoothness.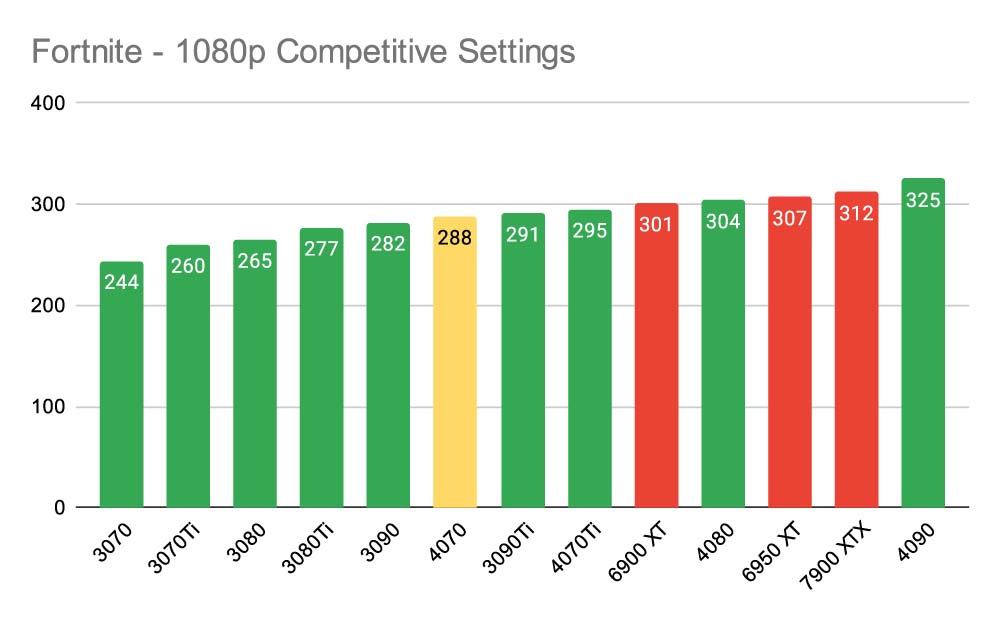 Conclusion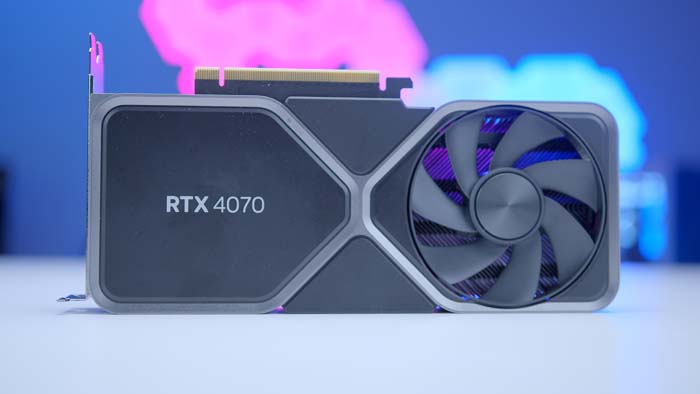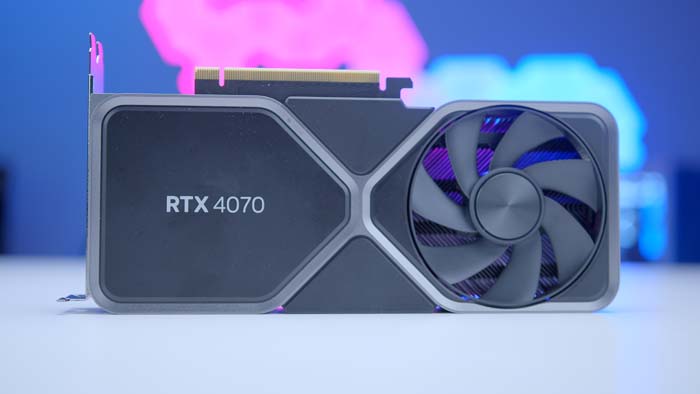 GPU Versus Winner – NVIDIA RTX 4070
Winning the overall GPU Versus battle is NVIDIA's latest and greatest – RTX 4070. This card surpassed all of our expectations offering strong performance metrics at a 4K and 1440p resolution. Although the RTX 3080 is still a relatively strong competitor, the biggest thing that sets these cards apart is the price. The RTX 4070 comes in at a solid price point considering the kind of performance on offer, whilst the RTX 3080 is a pretty expensive option by comparison.
If the RTX 3080 could still be picked up at MSRP, I'd argue that either of these cards is a solid option, but because the 3080 SKU can only be found in AIB models which are priced much higher than MSRP, the 4070 is a better bet. Performance and pricing are the biggest considerations anyone should make when buying a graphics card, and the RTX 4070 wins on both counts. It's good to see that the higher-end SKUs still hold up quite well in comparison, but it seems that the 4000 series is a better choice when it comes to value!