With GPU prices continuing to fall, we are seeing a large array of deals begin to sweep the market as retailers and system builders look to retain market share. In the UK, a country where GPU availability has been easing for the last 3 months, these deals are beginning to look incredibly competitive. We've rounded up a couple of great system deals from Alphasync, a reputable UK system builder stocked exclusively at Ebuyer.com.
Alphasync are some of the first to market with systems when new GPUs hit the market, and the RTX 3050 was no different for the Yorkshire-based system builder. They were fast to add 3050 skus to the site, and bring with them some highly competitive price points. The last 2 weeks have seen further price drops from the system builder, bringing their RTX 3050-based systems to the cheapest level of any UK, mainstream builder.
Alphasync Diamond RTX 3050 @ £699.99
The first of those systems is this 'Diamond' system, which Alphasync claim can achieve more than 80FPS in Battlefield 2042 and over 100FPS in Forza Horizon 5.
Equipped with an i5 10400F CPU, the build takes advantage of a slightly older, but still very capable, Intel 10th generation CPU. The build also comes equipped with 16GB of RAM, the perfect amount for an RTX 3050 build, and 500GB of NVMe storage. The inclusion of NVMe storage should keep the system relatively snappy, and make sure boot up times are quick.
The build also boasts a 650W power supply, helping to future-proof this system against future upgrades to components like the CPU or GPU. The power supply is one area where system integrators can cut costs, but Alphasync have opted for a well-reviewed Corsair unit here, which is great to see.
The Alphasync Diamond RTX 3050 is currently available from Ebuyer.com for £699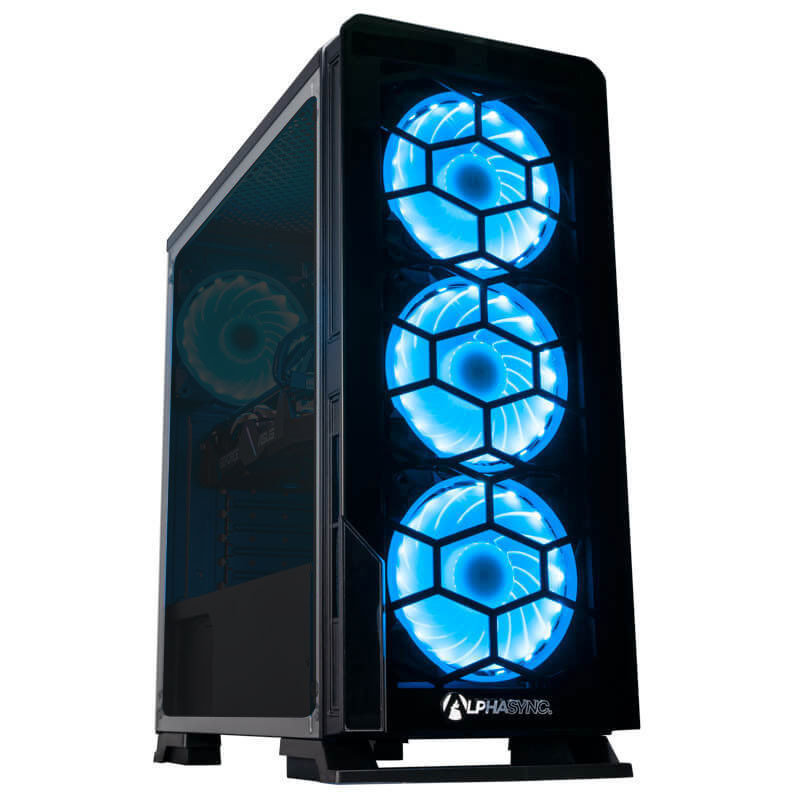 ---
Alphasync Onyx RTX 3050 @ £829.98
If you have ab it more money to spend, Alphasync also have a system on their 'Onyx' range, featuring a similar setup, but with a few key tweaks.
This build comes with Windows 11 Home installed from the get go (something you don't have with the Diamond system), and used a more premium chassis design with better airflow for cooler system temperatures.
Like the Diamond system, you also get Free Next Day delivery, with a 3 year warranty (comprised of 1 years parts, 3 years labour). It is worth noting Alphasync also have fantastic reviews on Trustpilot, with their systems well-reviewed on Ebuyer.com, too.
The Alphasync Onyx RTX 3050 is currently available from Ebuyer.com for £829.98