Introduction
Nvidia's RTX 3000 cards are amongst the most powerful GPUs that consumers have access to in the current market. However, with so many different options available and confusing model names, picking out the right GPU can be a confusing process.
Today we'll be jumping into the differences between two of Nvidia's most popular, and similarly named, cards – the 3060 and 3060Ti. We'll be looking at what separates the cards in a GeekaWhat GPU Versus battle pitting the two graphics cards against each other!
Suggested Article: MSI Gaming X Trio 3060 Review & Gigabyte Eagle OC RTX 3060Ti Review
Versus Battle
Nvidia GeForce RTX 3060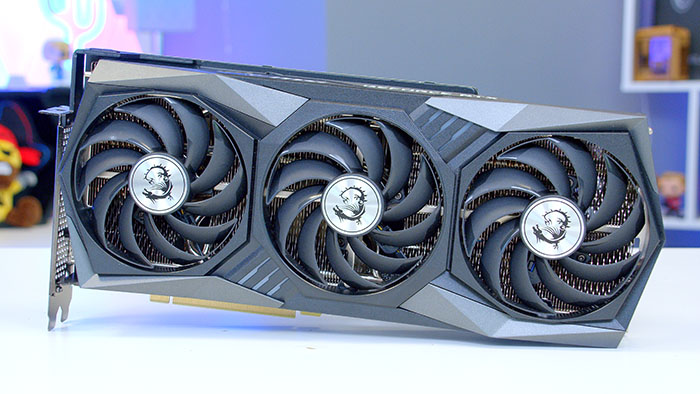 | | |
| --- | --- |
| Memory Capacity | 12GB GDDR6 |
| Boost Clock Speed | 1.78GHz |
| RT Cores | 28 |
| CUDA Cores | 3584 |
| TDP | 200W |
| Release Date | February 2021 |
| Price | Check Price on Amazon |
Nvidia RTX 3060 Specs
Nvidia's RTX 3060 is one of the cards that launched mid-way in the RTX 3000 series line-up, boasting slightly better specs than the 3050, and falling underneath Nvidia's own 3060Ti. This particular card positions itself in the budget market, but still offers users slightly better performance than the 3050 with legs to play some games at 1440p.
In terms of competition, this card rivals AMD's RX 6600XT, and the later released 6650XT. While this GPU has a similar amount of 'raw' power as much of its AMD competition on paper, Nvidia cards massively benefit from software optimisations such as DLSS, which help them pull ahead un lots of titles.
Generally the 3060 is better off at 1080p gaming, where it can achieve great frame rates across a huge range of games. The card also supports Nvidia's Ray Tracing tech, which works well at 1080p, but is limited at any higher resolutions, due to the required performance overhead.
As far as specs go, the 3060 is as impressive on paper as it is in practice. With a large 12GB of GDDR6 memory, which is actually more than its beefier brother the 3060Ti, it is well equipped. Clock speeds are quite impressive too, with a nearly 1.7GHz boost clock speed, and 3584 CUDA cores. The TDP is also relatively low, meaning you can run this card using a cheaper, lower wattage PSU.
Pricing for this card is very reasonable, and you can currently pick up a 3060 for MSRP if you shop around. The 3060 is very competitively priced and as such, if you're building a budget PC, we'd definitely recommend picking one up for 1080p, high-settings gaming.
Buy the MSI Gaming X Trio RTX 3060 on:
Nvidia GeForce RTX 3060Ti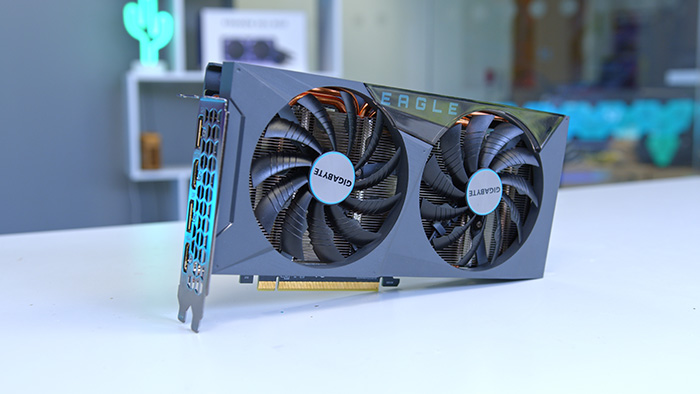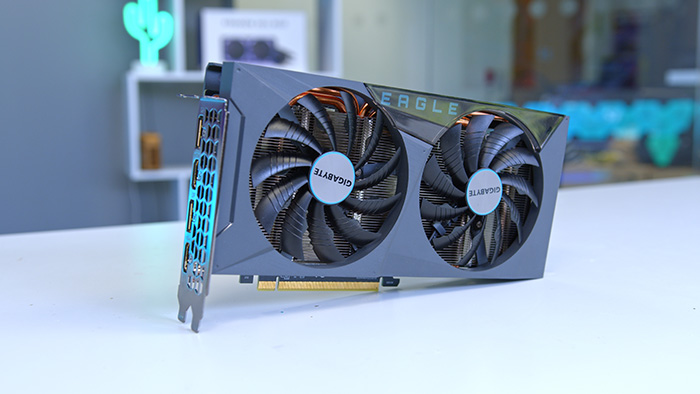 | | |
| --- | --- |
| Memory Capacity | 8GB GDDR6 |
| Boost Clock Speed | 1.67GHz |
| RT Cores | 38 |
| CUDA Cores | 4864 |
| TDP | 200W |
| Release Date | December 2020 |
| Price | Check Price on Amazon |
Nvidia RTX 3060Ti Specs
The RTX 3060Ti was one of the more exciting launches of the RTX 3000 line-up, due to it being the first time Nvidia have released a 'Ti' variant of their budget '60'-tier GPU. The card aims to deliver a solid performance bump over the RTX 3060, while sitting at a more affordable price point than the higher-end RTX 3070.
The 3060Ti offers performance above what is required for most at 1080p, with far greater abilities at 1440p than the standard RTX 3060. It also boasts far more legs for Ray Tracing than the RTX 3060, with the extra raw power helping to offset the performance overhead of the real-world lighting tech.
Hardware wise, strangely the 3060Ti has less VRAM than the 3060. But what the 3060Ti lacks in VRAM it makes up for in CUDA cores. Despite the 3060 having slightly better clocks speeds, the 3060Ti performs better overall due to the considerable upgrade in CUDA cores.
In terms of pricing, the 3060Ti will cost you considerably more than a 3060, but provides a very solid performance bump. The major advantage of spending the extra on this card is its legs for gaming at 1440p. For those looking to push resolution that bit further, the RTX 3060Ti is undoubtedly the better bet.
Here, Nvidia have redefined what consumers have come to expect from a '60'-tier GPU. You can read our full review of the Gigabyte RTX 3060Ti Eagle OC here.
Buy the Gigabyte Eagle OC RTX 3060Ti on:
Our Testing Methodology
Whenever we get new new components or products we always put them through their paces by testing them with games and popular benchmarking tools. Within this, we also strive to inform and educate consumers about these components by keeping the technical jargon to a minimum. The benchmarks we conduct will always be a fair test, using similarly performing components. For example, you wouldn't pair one of Intel's Core i3 CPUs with a high-end GPU like a 6950XT or 3090Ti as this would cause bottlenecking. As such we pick the best CPU and GPU pairings for our tests, and balance the other hardware in our testing rigs in line with this.
Benchmarking Performance
All of the benchmarks we conduct use a range of the latest and most popular Triple A and Esports titles. The complete benchmark runs also feature on our benchmarking YouTube channel, 'Benched'. There you'll find our gameplay runs for all of the latest GPUs (and some older cards, too!)
Apex Legends
First off in Apex Legends, both cards performed very well at 1440P, high settings. The 3060Ti delivered 132 frames per second, something which will be beneficial to those competitive, FPS gamers. The 3060 followed behind with just over 100FPS. This is a decent figure, but does shot the large gap between it and the 3060Ti performance-wise.
Valorant
In Valorant, both of these Nvidia GPUs hit giddy sights, with impressive frame rates delivered by both GPUs. Once again, the 3060Ti pulled a more than solid lead against the 3060, showing its extra GPU horsepower. Valorant tends to be relatively well optimised as a general rule, but these framerates prove how powerful these cards are, and by comparison against AMD's GPU offerings.
GTA V
In Grand Theft Auto 5, both the 3060 and 3060Ti held up well, with the 3060Ti pulling a pretty dramatic lead. GTA V isn't always a great test, due to its age and corresponding lack of optimisation for new cards.
Both the RTX 3060 and RTX 3060Ti demonstrated very playable frame rates that surpassed 110 and 130 frames per second respectively.
Fortnite
In Fortnite we've turned down the settings to 1080p and thrown DLSS into the mix to provide a more competitive edge. Both cards did very well overall, as we would expect art these sorts of settings. The RTX 3060 pulled ahead of its AMD 6600XT counterpart, while the 3060Ti, astonishingly, outperformed the AMD RX 6800.
For maximum frame rate, the 3060Ti is always going to be the better bet, but the regular RTX 3060 certainly wins out in cost per frame rate metrics here.
Gaming PC Builds
All of the new GPUs that we receive get shown off in a PC build on our channel or in an article here on the site, and both of these graphics cards have featured into gaming systems that we've put together in the past. These videos will show you how to build a brilliant gaming PC, along with some gaming benchmarks that provide context on how a similar system will perform.
Best RTX 3060 $1000 Gaming PC
Best $1200 Gaming PC Build
Conclusion
The answer to which of these GPUs is best is pretty easy, they're both fantastic choices, but the 3060Ti takes the cake for us. It wins out not because it provides better performance (it's higher price tag should leave you expecting that at a minimum), but because it punches so highly above its weight. Knocking on the door of the RTX 3070, this is a card that redefines Nvidia's mainstream '60'-tier of GPU.
We can't exactly say that one card is better than the other, because they're both positioned in different areas of the market. The 3060 is geared more towards users that are building a budget PC but might take a chance with 1440P. The 3060Ti sits more in the mid-range market offering stellar performance in both 1080P and 1440P settings.
Regardless, either of these GPUs will be an excellent choice for your PC, and based on the fact that you can pick up either of them for MSRP they're definitely worth grabbing if you're looking to build a budget or mid-range PC.