Introduction
Its finally time to talk about Nvidia's brand new RTX 4080 graphics card. After what seemed to be some reprieve from the back to back launches, Nvidia are back again with another release for their new GPU, the GeForce RTX 4080.
We've been working day and night to see how this new graphics card performs, comparing it against existing products to see if its worth picking up despite the rather high price tag. You're all probably wondering how this new release compares to the previous flagship, the RTX 3080? In this GeekaWhat versus battle, we'll be delving into the key facts and specs of each card to see how they compare when it comes to hardware. And later on in this article, we'll let the benchmarks decide which card is better!
Suggested Article: Gigabyte AORUS Master RTX 4080 Review – The Best RTX 4080?
GPU Versus Battle
Nvidia GeForce RTX 4080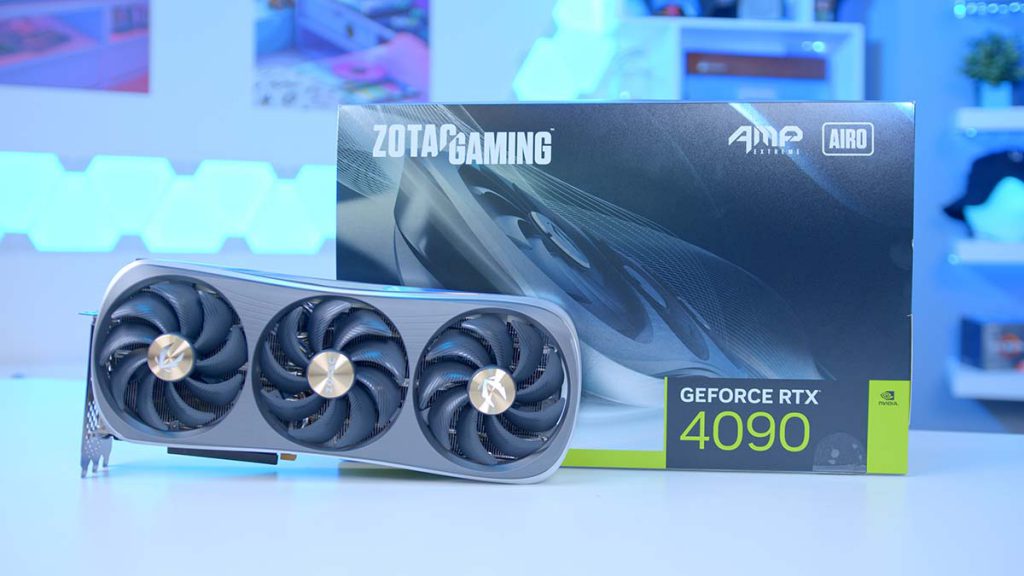 | | |
| --- | --- |
| Memory Capacity | 16GB GDDR6X |
| Boost Clock Speed | 2.51GHz |
| RT Cores | 76 |
| CUDA Cores | 9728 |
| TDP | 320W |
| Release Date | November 2022 |
| Price | Check Price on Amazon |
Nvidia RTX 4080 Specs
Nvidia's RTX 4080 is the second card to release in the RTX 4000 range, offering up very powerful hardware at a lower cost than the 4090. This card was set to launch alongside a 12GB version with the same name, but after much criticism and confusion, Nvidia decided to press the 'unlaunch' button and go back to the drawing board, with that card set to return at a later date. After months of speculation, Nvidia finally gave us the RTX 4080 specs information we craved, showing off a mighty amount of hardware, available for a lower overall cost to the RTX 4090. With 76 RT Cores, 9728 CUDA Cores, and 16GB of GDDR6X memory, we're looking at a beast of a card set to bring excellent performance at the higher end for 4K games, or workstation applications.
But how does it fare performance wise? So far, the 4080 is very impressive, offering up numerous frames at 4K settings with Ray-Tracing enabled. DLSS 3.0 is also aiding the performance, with the ground-breaking Frame Generation technology yet again stretching its legs at higher settings. High graphical fidelity titles such as Cyberpunk 2077 are no problem for this card at maxed out 4K settings with Ray-Tracing enabled, allowing us to experience excellent visuals at a very playable framerate. Although we don't have the dual AV1 encoders that we saw on the 4090, this card still provides great export times and rendering speeds, making it excellent for workstation applications.
Now you're probably thinking, "Wow this sounds like an incredible card, what's the catch?". Unfortunately, its the price. Despite being an excellent performer in most scenarios, you're looking at spending over $1200 for this beastly GPU. This is where the new RTX 4000 cards fall flat, making it relatively inaccessible for most consumers to buy. For this reason, we're hopeful that Nvidia end up releasing more mid-range oriented cards that offer similarly great performance at a much lower price point. Without a doubt, the price of the 4080 is a bit of a kick in the teeth, but you're effectively paying for one of the best graphics cards in the world, which does impose some caveats.
Buy the Nvidia GeForce RTX 4080 on:
Nvidia GeForce RTX 3080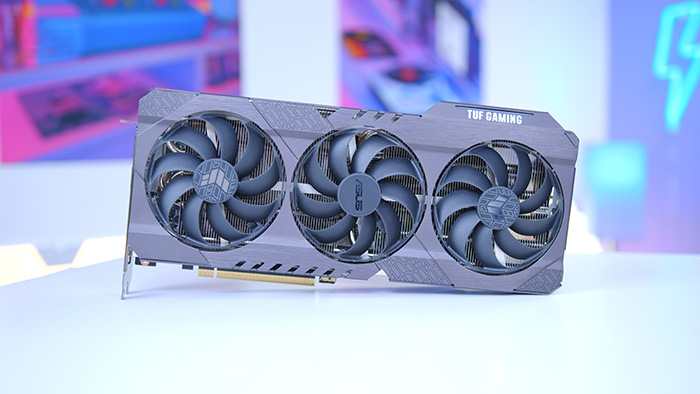 | | |
| --- | --- |
| Memory Capacity | 10GB GDDR6X/12GB GDDR6X |
| Boost Clock Speed | 1.71GHz |
| RT Cores | 70 |
| CUDA Cores | 8704/8960 |
| TDP | 320W/350W |
| Release Date | September 2020/January 2022 |
| Price | Check Price on Amazon |
Nvidia RTX 3080 Specs
The RTX 3080 was the first card to release in the RTX 3000 line-up, which seems to be the reverse of the RTX 4000 launch. The 3080 was advertised as a performance heavyweight, and Nvidia definitely delivered on this front. Consumers would be graced with a GPU that could easily handle 4K resolution in the majority of titles, and had zero issues tackling 1080P and 1440P either. Building an even more powerful workstation PC became a possibility with this card, if you could pick one up during release. The 3080 launched with two different designs, with each iteration offering minor changes to the hardware specs. The 12GB version released with 8960 CUDA cores, whereas the 10GB version only launched with 8704, which is still equally impressive.
Looking at gaming performance, the 3080 was able to reach very impressive framerates (over 100 in most instances) while running the game at high settings with a 4K resolution. DLSS 2.0 was still maturing at the release of the 3080, but we saw improvements to this technology over time, allowing consumers to reduce some of the performance overhead that comes with 4K gaming. For workstation applications, the 3080 also performs extremely well, providing optimal rendering and export times when paired with an equally powerful CPU. Needless to say, the RTX 3080 is an excellent card and is generally the go-to for consumers building a high-end gaming/productivity PC at a relatively reasonable price.
Speaking of which, lets briefly talk about the price tag of the 3080. This card sits just below the $1000 mark at MSRP, and currently on Nvidia's website, you can pick up the Founders Edition for below $700 (which is a very good price I might add). Although I wouldn't consider the MSRP of the RTX 3080 'cheap', its arguably a much better price than the 4080. Nvidia have drastically upped the prices of their new cards, so RTX 3000 does seem like a safer bet if you'd like to build a high-end PC for a lower price. In summary, the RTX 3080 is an awesome all-rounder with great metrics in high-end gaming and workstation systems, and with a much lower price than the RTX 4080, this GPU is definitely worth picking up!
Buy the Nvidia GeForce RTX 3080 on:
Our Testing Methodology
To test components, we apply a fair but rigorous testing methodology. This involves using balanced components to ensure fairness, i.e. pairing a Core i5 12400F with an RTX 3060. For the 4080, we've used the <insert CPU here> to ensure our system can perform optimally without bottlenecks or hindrances. We do this to provide fair representation of builds assembled by readers and viewers.
The other part of our testing methodology relates to our editorial promise. We will always provide an honest and impartial opinion about components or products sent to us, regardless of whether the component is good or bad. The reviews are free from external review and any opinions we express are entirely our own.
Our Testing Methodology
All of the graphs that we've provided below are from a multitude of gaming benchmarks that feature on our YouTube channel Benched. We use the latest triple A and Esports titles to test the latest components, which provides context as to how a similar gaming PC will perform. Check out the Benched YouTube channel to see all of the full runs of each title.
Apex Legends
In Apex Legends at 4K, the 4080 and 3080 were almost at opposite ends of the spectrum in this game. The 3080 sat at the bottom of our comparison graph giving us an average of 119FPS. Whereas the 4080 gained around 40 frames, hitting well above the 144Hz sweet spot with extra frames for redundancy.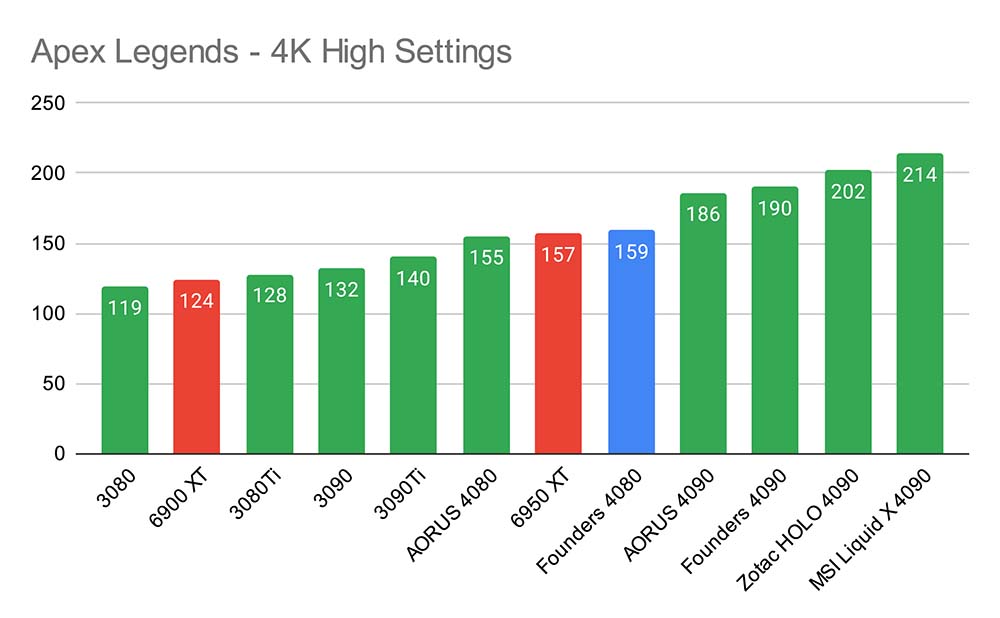 We were very happy with the performance overall with both of these GPUs, but the 4080 seems to be a clear winner if you're attempting to play this game competitive at a higher resolution.
COD Warzone
In Warzone we saw a similar situation with the 4080 sitting at the top, and the 3080 unfortunately not performing as well in comparison. Although the 3080 was able to output a reasonable amount of frames, we weren't able to surpass the 100FPS mark which isn't ideal as this game can be intense and fast-paced. However, users will be able to enjoy a smoother experience with the high frame count.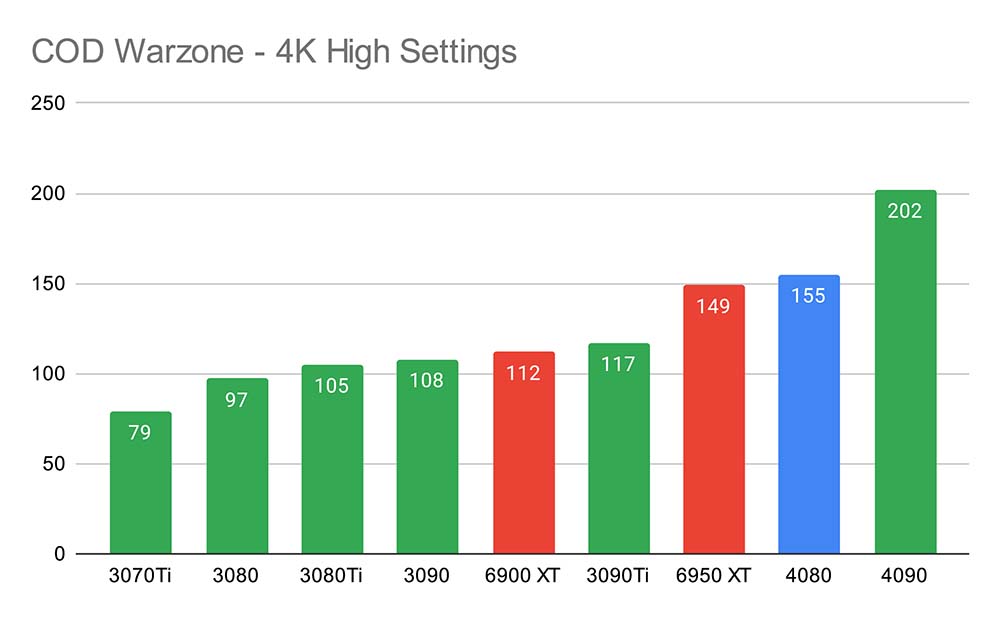 The RTX 4080 is dressed to impress here hitting an average of 155 frames, which again hits that perfect sweet spot that we love to see within a number of titles. We were expecting higher frames from both of these GPUs, but this is likely down to poor optimisations in the game's engine.
Battlefield 2042
In Battlefield 2042, this is where things get interesting. Battlefield isn't well optimised which is reflected in the weaker performance from both of these GPUs. Only the 4090 and 4080 were able to surpass 100 frames on average, which demonstrates that 4K gaming in Battlefield 2042 is rough on most GPUs. Regardless, the RTX 3080 and 4080 pushed through giving a great gaming experience during our benchmark.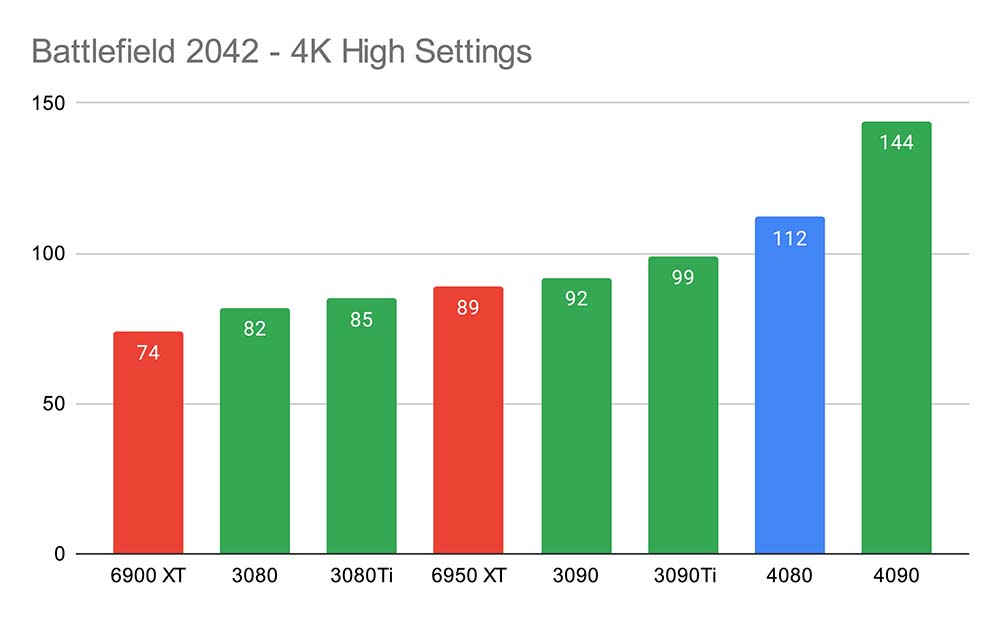 Fortnite
For our final game, we played Fortnite at 1080P Competitive settings. This gives us a baseline of what to expect at 1080P settings, and needless to say neither of these GPUs were disappointing. The 4080 soared above 300FPS on average giving users the opportunity to enjoy very high refresh rates with select monitors. The 3080 also shared a similar story, with 265FPS on average which is again, more than enough to enjoy smooth unhindered gameplay.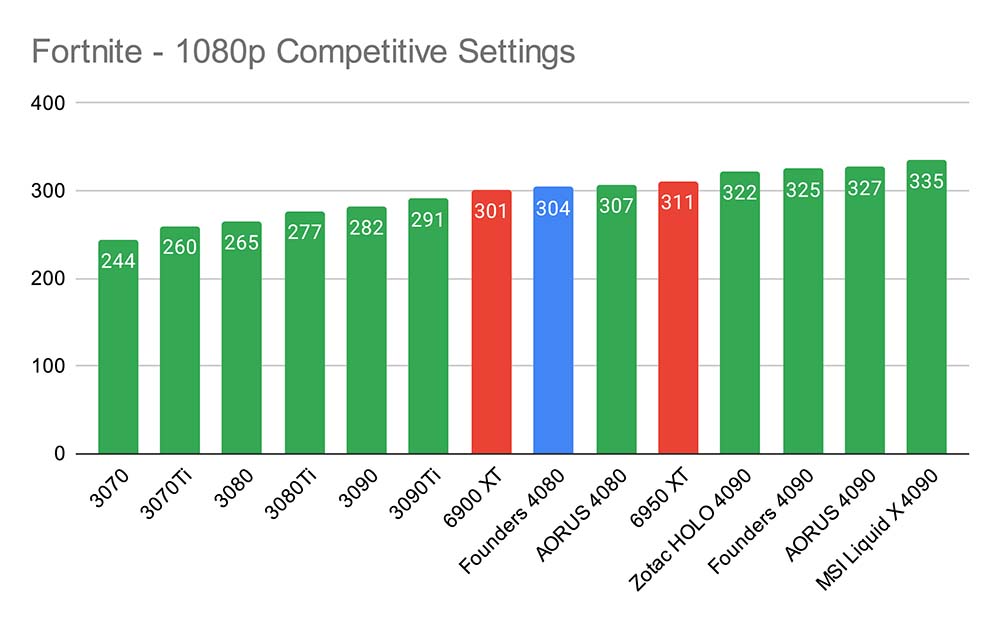 Conclusions
Where does the brand new RTX 4080 stand against the previous generation's RTX 3080? So far it seems that Nvidia have done themselves proud in terms of generational improvements, because the RTX 4080 does provide significant performance gains versus much of the RTX 3000 series. With that in mind, does it necessitate an upgrade if you've already got a 3080 or above? Probably not. Despite there being a leap in performance, the price of the 4080 puts it in a weird position compared to the 3080.
With current pricing the RTX 3080 is excellent value when it comes to performance, and most users will be extremely happy with this card in relation to 4K gaming, or workstation applications. As always we would urge sticking to your use-case as the justification for which card to buy. If you'd like to save some money but want to build a 4K gaming system, then the RTX 3080 is a better bet. If you're looking to build something top-end with the best performance money can buy, then the RTX 4080 is a better bet!