Introduction
Nvidia's brand new RTX 4080 graphics card is finally here! We've been waiting for these GPUs for a little while now, and after the seemingly successful launch of the RTX 4090, consumers can only hope that the 4080 offers similar performance at a significantly lower price point.
In this versus battle, we'll be seeing if the proof is in the pudding in relation to the performance of the RTX 4080. We'll be comparing the 4080 against the 6950XT from AMD, which was Team Red's top performing card of the previous generation. The hardware of each graphics card will be analysed and then thrown into some gaming benchmarks to see what kind of frames we can reach with these beastly GPUs.
Suggested Article: Gigabyte AORUS Master RTX 4080 Review – The Best RTX 4080?
Versus Battle
Nvidia GeForce RTX 4080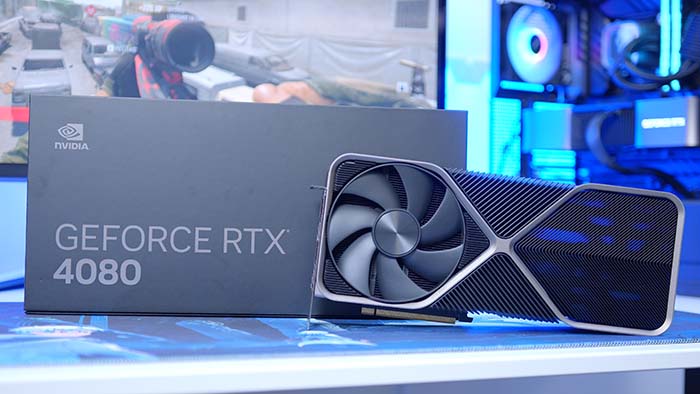 | | |
| --- | --- |
| Memory Capacity | 16GB GDDR6X |
| Boost Clock Speed | 2.51GHz |
| RT Cores | 76 |
| CUDA Cores | 9728 |
| TDP | 320W |
| Release Date | November 2022 |
| Price | Check Price on Amazon |
Nvidia RTX 4080 Specs
The Nvidia RTX 4080 is the second 4000 series card to release around a month after the very successful launch of the 4090. Nvidia have switched up their flagship cards in contrast to the RTX 3000, with the top-end '90' card hitting the market first. This was an interesting choice from Nvidia as we were expecting the "more affordable" card to release first. The 4080 utilises the existing Ada Lovelace architecture that we saw in the 4090, resulting in similarly powerful hardware. Nvidia has crammed the 4080 with CUDA and RT cores, which provides a significant increase to the clock speed, giving the card the capability to deal with more instructions. The 4080 also has seen a big jump in graphical memory compared to the 3080, giving us a total of 16GB of GDDR6X VRAM.
With those eye-watering specs, one would assume that this GPU performs incredibly well, and you'd be right. The 4080 has no issues with 4K gaming with Ray-Tracing enabled. And with the new DLSS 3 technology alongside Frame Generation, you're getting a rather large bump in frames whilst reducing performance overhead. Titles like Cyberpunk 2077, F1 2022, and Battlefield 2042 pose no issue to the 4080, and we saw very playable framerates at a high resolution. Workstation applications that involve more intense graphical workloads also saw render and export times massively reduced due to the parallel processing capability of this GPU.
Pricing is where things start to become a little bit more complicated. The RTX 4090 saw a big price jump when compared to the previous generation and it seems the 4080 has followed suit. Unlike the 3080, this card sits well over the $1000 mark, which is more than what most are willing to spend on a GPU. Arguably you're getting what you pay for, but we would've liked to see Nvidia price this card a little bit more competitively. However, we're hoping that AMD's most recent RX 7000 announcement might force Team Green's hand when it comes to pricing.
Buy the Nvidia RTX 4080 on:
AMD Radeon RX 6950XT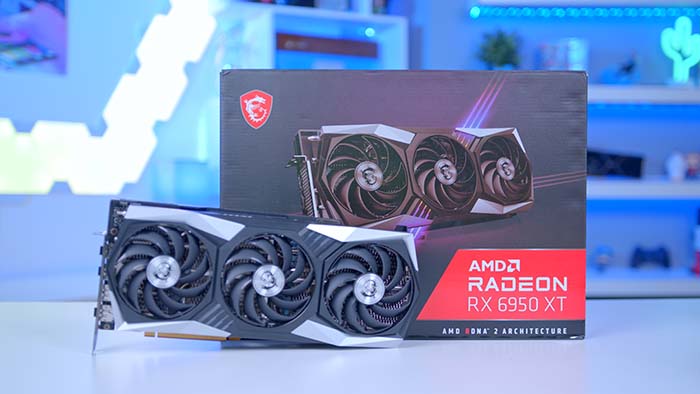 | | |
| --- | --- |
| Memory Capacity | 16GB GDDR6 |
| Boost Clock Speed | 2.31GHz |
| Ray Accelerators | 80 |
| Stream Processors | 5120 |
| TBP | 335W |
| Release Date | May 2022 |
| Price | Check Price on Amazon |
AMD Radeon RX 6950XT Specs
AMD's Radeon RX 6950XT launched alongside two similarly named SKUs (the 6650XT and 6750XT) back in May of this year. AMD boasted better performance than their Nvidia counterparts. While this was true, the performance difference was rather negligible in the grand scheme of things. However, the RX 6950XT does offer excellent performance at a relatively competitive price when compared to Nvidia. Hardware wise, the 6950XT offers up 16GB of GDDR6 memory, along with a rather impressive 2.31GHz clock speed, 80 Ray Accelerators, and 5120 Stream Processors. Though we're not seeing quite the same specs as the RTX 4080, the 6950XT still holds up very well against its RTX 3000 Nvidia counterparts.
Performance wise, the 6950XT does very well in 4K gaming scenarios. We tested all of the new Ryzen 7000 and Intel 13th-Gen CPUs with the 6950XT. It performed great at 4K, and even better at 1080P. The 6950XT does tend to fall flat somewhat when it comes to Ray-Tracing, but in select titles, this card really flies. Call of Duty Warzone, Vanguard, and Battlefield 2042 are prime examples of intense games at higher resolutions that the 6950XT handles no problem. Applications that involve more intense workloads also tend to work very well with the 6950XT. Overall, the performance of the 6950XT is on par with Nvidia's RTX 3000 cards in most circumstances.
Price wise, this was one of AMD's first graphics cards to be priced over $1000. Although prices have dropped since then and we're expecting to see them drop even further with the release of the RDNA3 GPUs, I'd say the 6950XT is a steal when it comes to price. The 6950XT targets the 3090 and 3080 in terms of performance and is priced considerably lower than both of these cards. Whilst performance can be a bit hit and miss with certain titles (and Ray-Tracing), you're getting a very similar card for an expensive but competitive price. AMD, you did a good job this time around!
Buy the MSI Gaming X Trio RX 6950XT on:
Our Testing Methodology
Testing the new Nvidia graphics cards has been a lengthy process, but we've followed a rigorous and repeatable testing methodology the whole way. To ensure we achieve fair results, we've paired up the 4080 and 6950XT with similar components in our test bench to reduce any hindrances and bottlenecking. All of our benchmarks are conducted by an in-house team that are not subject to any external review or changes, which is part of our editorial promise. Much like our benchmarks, the article you are reading today follows suit and will not face any interference or changes by external brands or manufacturers.
Benchmarking Performance
All of the benchmarking runs that we conduct on plethora of components feature on our very own YouTube channel – 'Benched'. This ensures we remain transparent and that readers/viewers can easily replicate our testing methodology to achieve the same results.
Battlefield 2042
For our first game we decided to benchmark Battlefield 2042 at 4K. Here the 4080 shows how capable it is outputting just over 110 frames on average. Nvidia was able to demonstrate a clear performance benefit by picking up a card from Team Green. AMD's 6950XT was able to reach around 89 frames on average which is playable, but for their top-end card we were expecting better.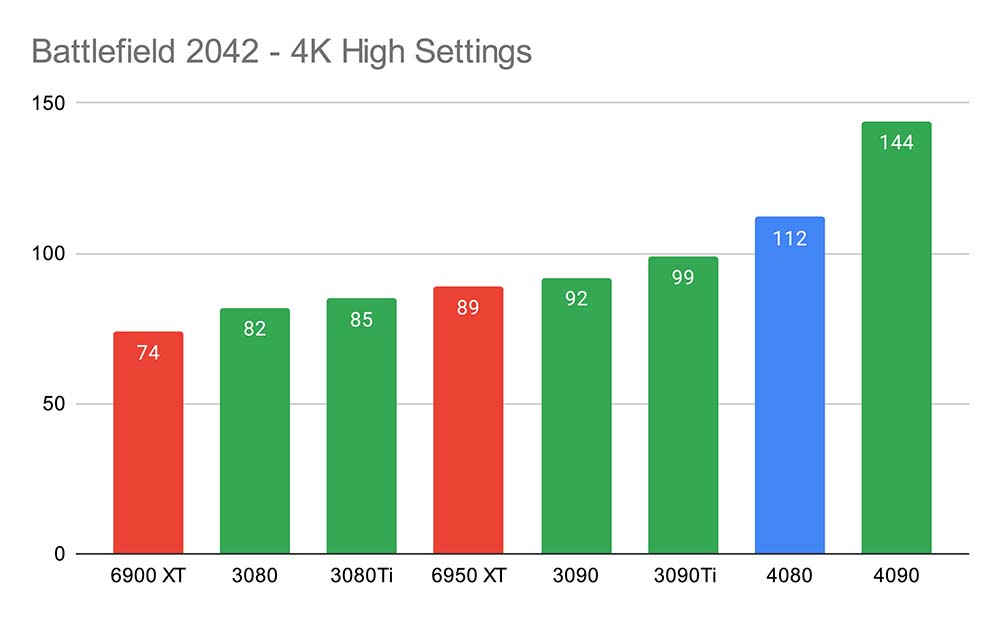 Apex Legends
In Apex Legends, we cranked the settings up to 4K to see how both of these cards handled this fast-paced title at a higher fidelity. From a glance at the graph you'll be able to see that the 4080 and 6950XT were pretty much on par in terms of performance. Both of these cards were able to hit a framerate that allows users to enjoy a higher refresh rate for a smoother gameplay experience. We were happy that AMD's top-end Radeon 6000 card was at least able to keep up with the 4080 in this title.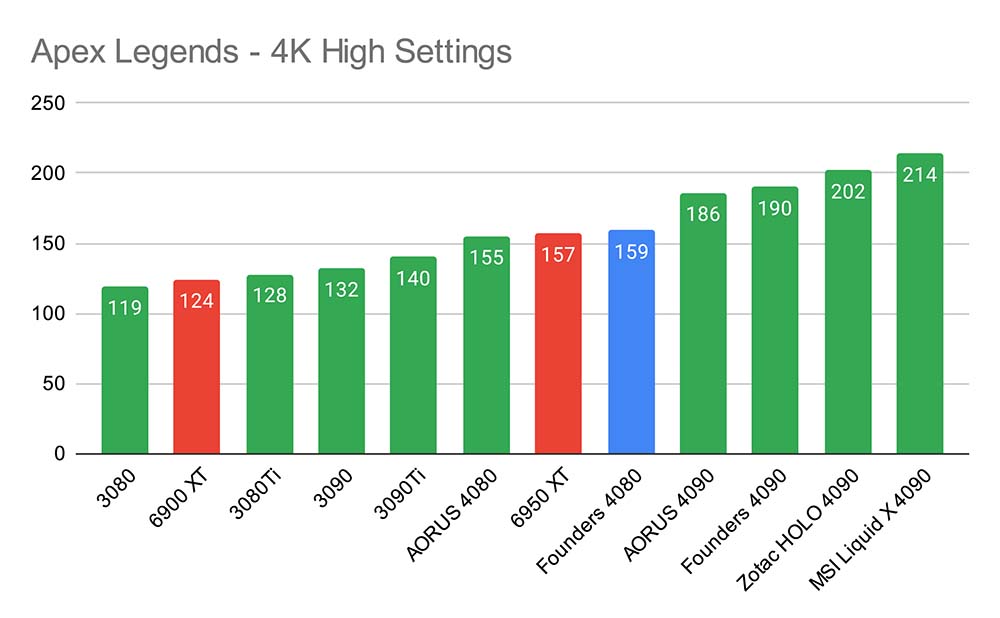 Fortnite
In Fortnite we dialled the settings back a bit to see how many frames the 4080 and 6950XT could output in this game. Our results showed that the 6950XT came out on top in this instance. Although the performance was again very close, AMD was able to surpass the performance of the 4080 giving us an average framerate of 311 which is plenty to secure a Victory Royale. The 4080 was very close behind with a seven frame difference sitting just above the 300 frame mark with 304 in total!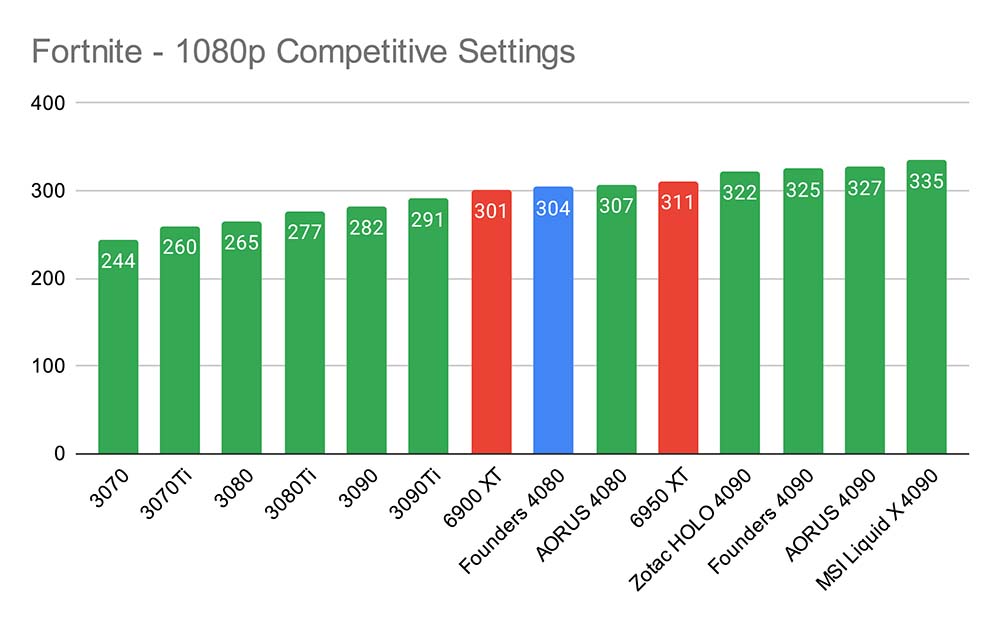 COD Warzone
For our final benchmark we decided to play COD Warzone at 4K. This is where both of these cards really show how capable they are. The majority of lower-end GPUs tend to struggle at 4K in this title, but the 4080 and 6950XT held strong despite the performance overhead in Warzone. Both of these GPUs were able to hit a high enough framerate for users to enjoy a buttery smooth display experience, and despite the poor optimisations the performance was impressive!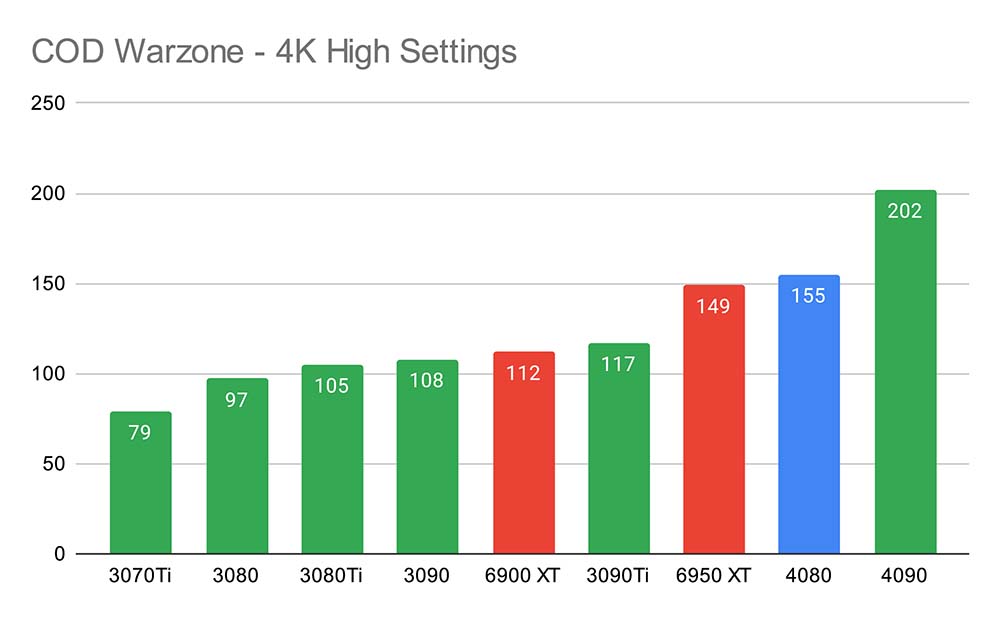 Conclusions
So which of these GPUs is better? Is Team Red's 6950XT a more worthwhile purchase, or is Nvidia's brand new RTX 4080 a better upgrade? So far it seems that Team Red take the win in this case, but only marginally. The Radeon RX 6950XT is an excellent card providing excellent performance in 4K with minimal frame drops in a number of games, and the 4080 follows suit.
For the bulk of our benchmarks, the 4080 and 6950XT were relatively on par in terms of performance and the frame difference between them was marginal. But based on the lower price point of the 6950XT it might be a more worthy purchase. You're getting a top-end 4K graphics card with excellent workstation capability at a much lower price overall. And despite not having access to all of the new features that come with RTX 4000 GPUs, the 6950XT still holds up very well.
But of course with any component purchase, your use-case and budget tends to come first as the decision maker. If you're wanting to save some money but you're looking to pick up an excellent 4K gaming graphics card, the 6950XT definitely seems to be the winner here. But if you want more recent tech along with DLSS 3, and superior Ray-Tracing technology, the RTX 4080 will be a better bet!