Introduction
After 5 years of success, Nintendo's Switch family of consoles are still going strong in 2022. Whilst it seems like everyone has already been tempted into buying a Switch, new games and special editions are constantly being released, making it a great time to buy.
If you are looking to finally grab a Switch, or you are one of the many gamers to already own one, you're probably wondering what you could buy to improve your experience?
Luckily for you, we have created a list of all the best accessories that will enhance both the console and handheld gaming experience on Switch. We have also made sure that the recommendations are compatible with the original Switch, Switch Lite, and Switch OLED.
What Do You Need?
Compared to our Xbox and PlayStation accessories, knowing what you will need is more complicated. This is because the Switch consoles vary in design and functionality, meaning each version has different features to cater for. For example, the Switch Lite is a handheld only console and is not capable of docking to work as a home console. However, there are similarities between the three iterations that can be addressed straight away.
In all of the boxes, you will find the consoles themselves, along with an AC adapter and instruction manual. For the Switch Lite, that's pretty much it for the unboxing experience. However, the Switch and Switch OLED are packed with extras such as a pair of Joy-Con controllers, Joy-con straps, a Joy-Con grip, a dock, and a HDMI cable. As you can tell by what's included in each of the boxes, the Switch Lite is the one console that provides the biggest differences in style and function.
Despite the lack of items in the Switch Lite box, all of the Switch consoles are ready to go straight out of the box. However, the minimalist approach will begin to cause issues for most Switch users. The hybrid design and cheaper price point forced Nintendo to make some sacrifices to performance and comfort. Because of this, there are a number of upgrades that can provide some quality of life improvements to Nintendo's latest console. Here are some upgrades that we suggest having a look at.
Our Recommendations
Controller: Power A Fusion Pro Controller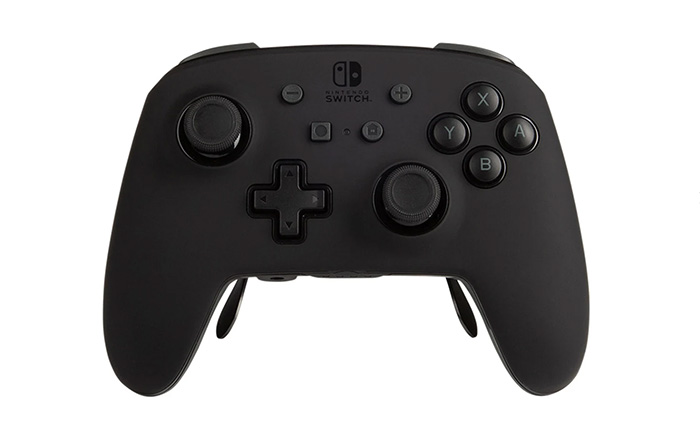 The Joy-Cons are a revolutionary invention that have raised the bar for controllers and the possibilities in which we can play games. That being said, their versatility comes at a price. Joy-Cons are not the most comfortable option and lack features that enhance performance.
That's why picking up a more traditional controller should be one of your first upgrades. If you are going to get a new controller, we suggest the Power A Fusion.
The Fusion is essentially a Switch version of the Xbox Elite Series controller. Power A's premium wireless controller includes plenty of features that can't be found on Nintendo's Joy-Cons and Pro controller such as an 3.5mm audio jack, mappable back paddles, and swappable thumb sticks.
This makes the Fusion Pro a great choice for competitive players or those used to playing on more traditional consoles. It is on the pricey side, but the additional features of this controller actually provides good value for money.
Key Features:
Wireless Connectivity
3.5mm Audio Jack
USB-C Charging
Mappable Back Paddles
Swappable Thumb Sticks & Faceplates
Anti-Friction Rings
Rubber Grips
Carrying Case Included
Buy the Power A Fusion Pro Controller on:
Alternative Controller: PDP Faceoff Deluxe+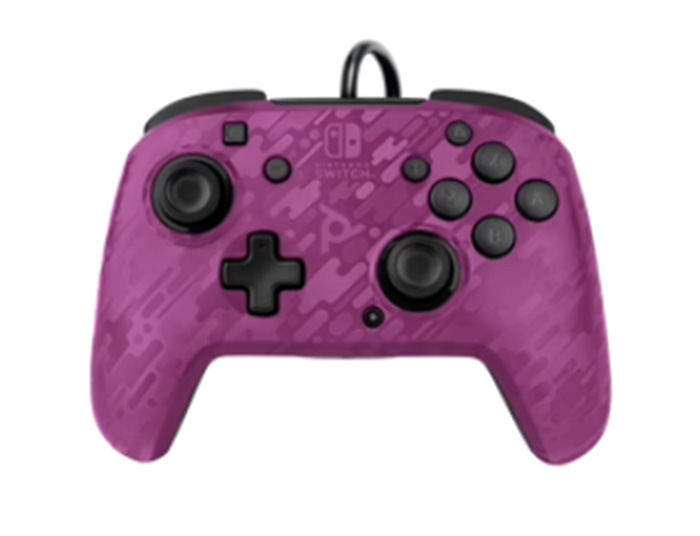 If you are looking for that traditional feel but are struggling to justify the pricing of the Fusion Pro, then there is no need to worry. There are a wide range of third-party controllers available at almost every price point.
If you are on a budget, the PDP Faceoff Deluxe+ is the best value for money option on the market. As long as you don't mind wires, PDP's Faceoff controller offers a lot of features at a very reasonable price.
The Faceoff Deluxe+ includes a 3.5mm audio jack, volume contols, programmable back buttons, and removable faceplates. The wired connection might be a sticking point for some, but if you can cope with a wired connection, then be sure to grab this controller. Whether it is for you or as a player 2, the PDP Faceoff Deluxe+ is an excellent bargain.
Key Features:
USB Connectivity
3.5mm Audio Jack
Programmable Back Buttons
Textured Grip
Integrated Audio Controls
Removable Faceplates
Buy the PDP Faceoff Deluxe+ Controller on:
Headset: Steelseries Arctis 1 Wireless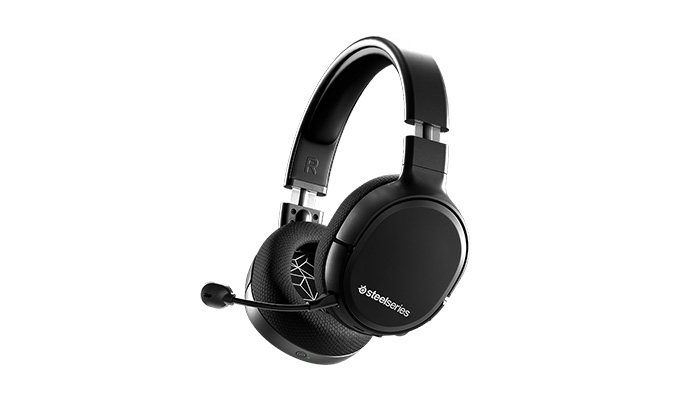 Thanks to the updated Bluetooth connectivity on Switch consoles, almost any Bluetooth headphones can be used to listen to your favourite games. However, there are plenty of issues that makes chatting with friends on the Switch extremely difficult.
Our advice would be to use an external method like Discord to chat with. But if this isn't an option, the Steelseries Arctis 1 is our preferred choice.
This headset is designed to work on multiple platforms other than the Switch, and possesses a stealthier look for when you are out and about. This versatile headset also comes with award-winning sound, a detachable bidirectional microphone, and custom audio controls.
Key Features:
Bluetooth Connectivity
40mm Speaker Drivers
USB-C Cross-Compatibility
Detachable Microphone
20 Hours Battery Life
On-Ear Controls
Custom Audio Controls
Buy the Steelseries Arctis 1 Wireless Headset on:
Headset Alternative: Turtle Beach Recon 70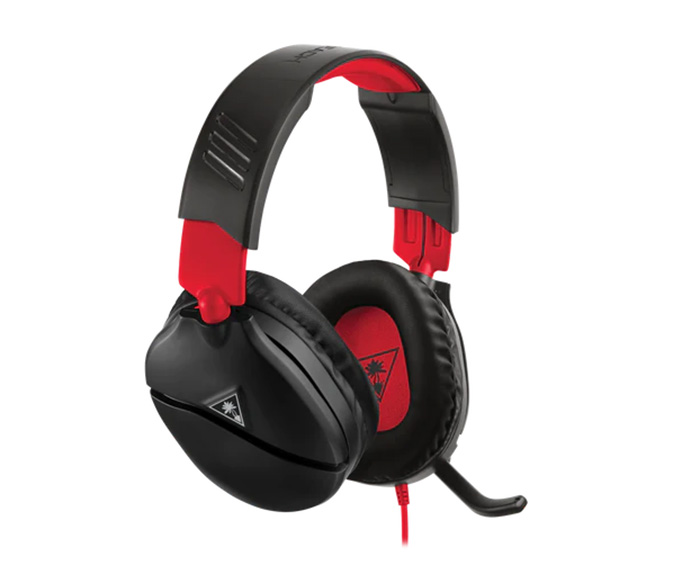 Due to the issues and limitations with Bluetooth on the Switch consoles, many users opt for a wired headset instead. On top of removing the problems with Bluetooth, a wired headset will save you some cash which can be used for other accessories or games.
Whilst the Steelseries Arctis 1 does have a wired version, we've decided to Switch things up! Turtle Beach are one of the most reputable brands when it comes to gaming headsets, and their Recon 70 lives up to expectations.
As Turtle Beach's budget wired option, the Recon 70 still provide plenty of punch to any game. The over-ear 40mm speakers let your hear every footstep without being distracted by the outside noise. And despite the lower price point, the Recon 70 has plenty of features to make gaming sessions easier.
Key Features:
3.5mm Audio Jack
40mm Speakers
Cross-Platform Compatibility
Flip-to-Mute Microphone
Lightweight Design
Buy the Turtle Beach Recon 70 Headset on:
Storage: SanDisk microSDXC 128GB for Nintendo Switch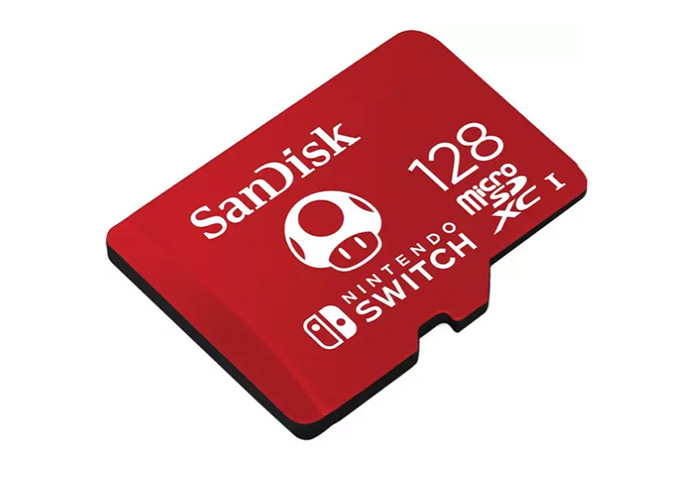 With the limited storage capacity on the existing Switch models, additional storage will be one of the first upgrades on the list for most users.
Most microSD cards will be compatible with the Nintendo Switch family. However, microSDXC cards are the most efficient, and third-party microSD cards can be unreliable. Because of this, we suggest the official Nintendo Switch microSD cards from SanDisk.
Game file sizes on Nintendo's consoles are a lot smaller than their Xbox and PlayStation, meaning that 1TB storage is not necessary. Unless you are planning on downloading lots of digital games, we suggest buying the 128GB as this will be enough for multiple physical and digital games.
The SanDisk microSDXC cards are specifically designed to store and load Nintendo Switch games. Also, these cards are detailed with icons from various Nintendo franchises, which is a nice touch. SanDisk and Nintendo also provide 64GB, 256GB, and 512GB variants.
Key Features:
128GB Storage
1000MB/s Transfer Rates
Optimal Performance for Switch
Nintendo Licensed Product
Buy the SanDisk microSDXC 12GB on:
Grip: Satisfye ZenGrip Pro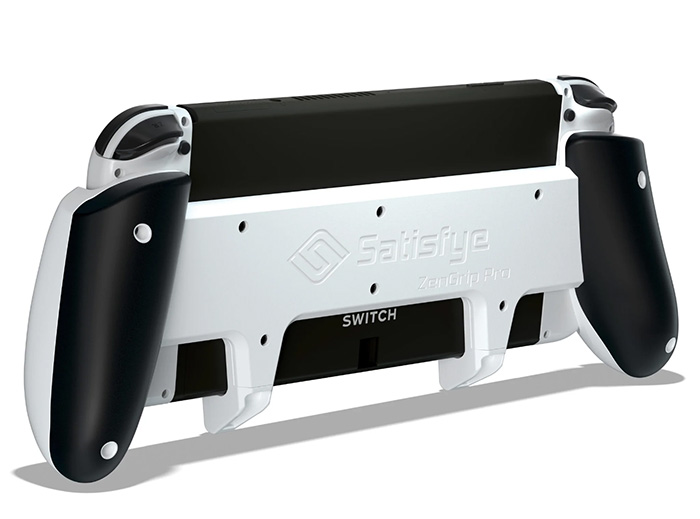 The hybrid nature of the Switch consoles has led to some flaws in the design. For example, the need to fit the system into a dock has caused the Joy-Cons to be rounded off at the bottom.
Whilst this isn't an issue for everyone, those with bigger hands often find it uncomfortable to play the Switch in handheld. From our experience, the hand positioning in handheld tends to become uncomfortable after an hour or so of playtime.
Because of this, many third-parties have designed grips that beef up the size and shape of the Switch consoles. If you look on the likes of Amazon, you'll see a range of these accessories, all with different ways of solving the problem.
However, the Satisfye grips are considered one of the best options you can get. The ZenGrips let you slot a Nintendo Switch into the attachment to form a sturdier and ergonomically pleasing device. With silicon tabs, integrated stands, and an off-shoot grip, the Satisfye ZenGrip is built for long handheld sessions.
Whilst the Pro version is designed for Switch and Switch OLED models, they do have a similar grip for the Switch Lite. They also offer bundles that include cases which can carry both the Switch and ZenGrip.
Key Features:
Available for All Models
Off-Shoot Right Hand Design
Silicon Tabs To Protect System
Integrated Stand
Increased Ergonomic Design
Buy the Satisfye ZenGrip Pro on:
Carrying Case: PDP Pull 'N' Go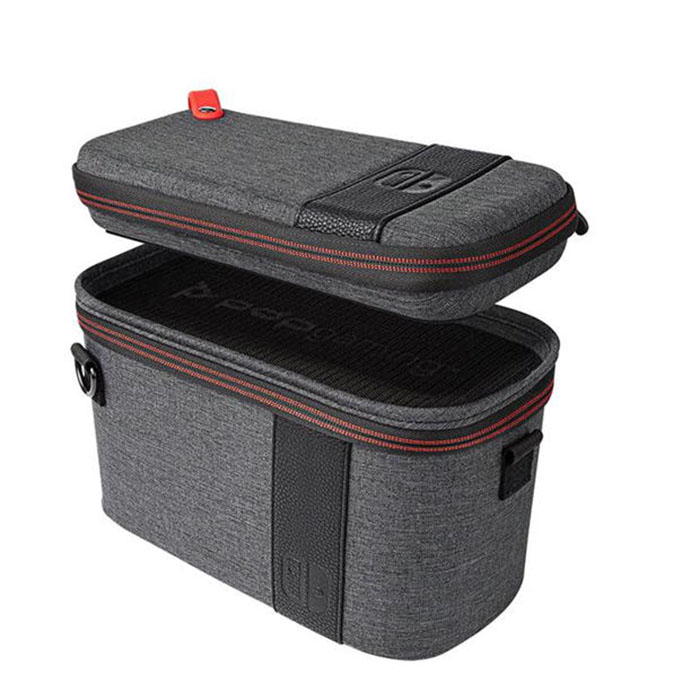 One of the main benefits to the Switch is its portability. Many Switch users are wanting to pick up the console and go without any issues. As a result, protecting and storing your Switch and all the extras whilst taking it from A to B is an important aspect to consider.
Just like the grips, lots of companies have come up with solutions in the form of carrying cases. Each of these cases vary in their use materials, compartments, and function, but PDP's Pull 'N' Go case is arguably the most innovative.
This PDP case provides all the space needed to fit the main system and the extra parts that come with it. However, the Pull 'N' Go has a neat trick that makes it an extremely versatile option. As suggested by the name, the case allows you to separate a smaller section containing the main system away from the external components, killing two birds with one stone.
This may not be ideal for Switch Lite users, but could still be useful depending on how many accessories you have for the handheld only system.
Key Features:
2-in-1 Carrying Case
Velcro Attachment For Easy Removal
Lightweight Shell Material
Interchangeable Accessory Dividers
Handle & Shoulder Strap Included
Officially Licensed Product
Buy the PDP Pull 'N' Go Case on:
Software: Nintendo Switch Online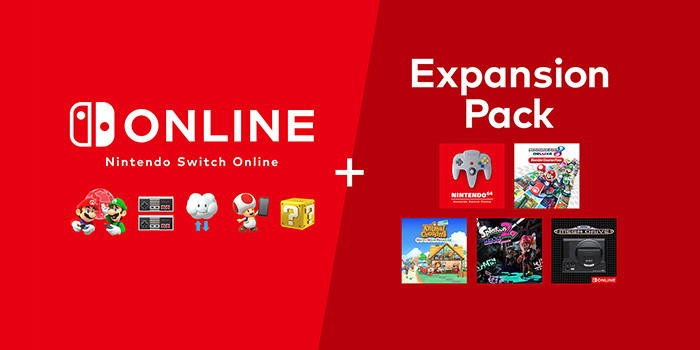 If have seen any of the other software recommendations for our console accessories guides, you already knew what was coming. Though Nintendo has great games like Zelda and Mario which always keep their value, the online services are too good to turn down.
Out of the three consoles, Nintendo's online gaming service is probably the most lackluster. Despite this, Nintendo Switch Online still provides lots of features that make it worth picking up.
The basic service offers members access to online game modes, cloud save data, exclusive rewards and discounts, as well as a library of classic NES and SNES games. For an additional fee, the expansion pass includes DLC for games like Mario Kart 8 Deluxe and Splatoon 2, along with the ability to play a collection of N64 and Sega Mega Drive titles.
Key Features:
Access to Online Game Modes
NES & SNES Games
Cloud Save Data
Exclusive Offers & Rewards
Individual & Family Memberships
Optional Expansion Pass
Buy Nintendo Switch Online on: