Introduction
In recent years, the gaming monitor industry has been moving very rapidly. Because of this, monitors under $300 can now offer features that were reserved for some of the most premium displays, only a few years ago.
This means consumers can leverage access to higher resolutions, better VRR technology and bigger displays at a much more reasonable price point. But how do you choose? With so many different brands and manufacturers throwing their hat into the ring, it can become difficult for the average consumer to choose a monitor that fits their use-case.
This is where we come in! We've rounded up the best monitors for under $300, covering a range of sizes, resolutions, design and features that cater to a plethora of different consumers.
Suggested Article: Best Gaming Monitors to Buy Under $250 in 2023
Hardware Considerations
In this roundup, we feature displays at all three of the standard resolutions: 1080p, 1440p, and 4K. While higher resolutions do greatly increase the amount of detail in the image, it does come with a penalty in terms of performance and price. Thus, when choosing a display, it's important to consider the capabilities of the PC it will be connected to. A good graphics card in particular will have the most impact in ensuring playable framerates at higher resolutions.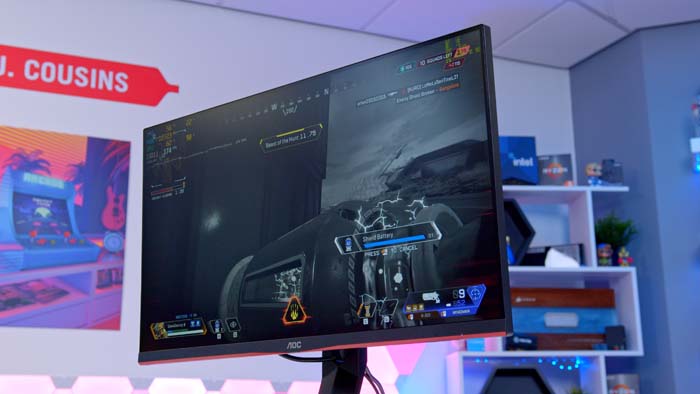 Displays featuring lower resolutions often come with the highest refresh rates for a smoother gaming experience, which is especially important in competitive games. Once again, it's important to consider that consumers will need a system that can drive the framerates required to reach higher refresh rates.
While consoles can also be connected to these monitors via HDMI, they will very rarely be able to take full advantage of them. This varies by model, most current-gen consoles will be able to make use of displays at up to 4K resolutions and 120Hz refresh rates.
Best Gaming Monitors Under $300
1. HP 27mx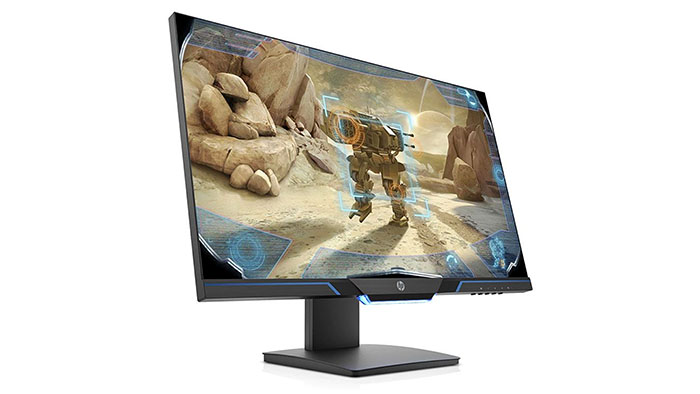 The first monitor in this lineup is the HP 27mx, an entry-level display from HP. It offers all the basic features needed for a good gaming experience on a budget.
The 27mx features a 27-inch, 1080p panel with a 144Hz refresh rate. This combination will ensure a crisp-enough image whilst ensuring that gamers will be able to take advantage of the increased smoothness of the higher refresh rate. The FHD (1920×1080) resolution also ensures that the display will be easy to drive, even on lower-end PCs.
Key Specs: Screen Size: 27″ // Resolution: 1080p // Panel Type: TN // Refresh Rate: 144Hz // Response Time: 1ms
In terms of the overall image quality, HP have made some choices consumers should be aware of. Firstly, the HP 27mx uses a TN panel. While great for reducing latency, these panels are also known for having worse contrast ratios and viewing angles than their VA and IPS counterparts. Thankfully, the display also features a peak brightness of 400 nits, which is on the higher end for budget monitors of this calibre.
Along with adequate coverage of the sRGB colour space, and support for AMD's Freesync technology for tear-free gaming, the HP27mx is a very good choice for an entry-level gaming monitor. It features the smooth 144Hz refresh rate, while providing an overall good viewing experience for the price.
Pros
High peak brightness for the price
High 144Hz refresh rate
Very appealing price
Cons
Poor viewing angles
Poor contrast ratio
Buy the HP 27mx on:
2. MSI Optix G27C4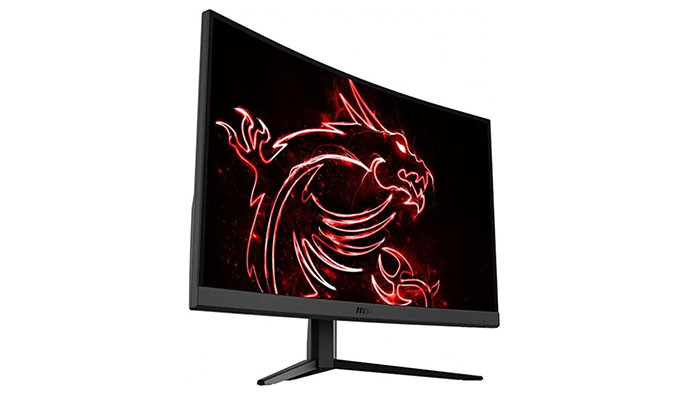 The MSI Optix G27C4 features some very noticeable improvements over the HP 27mx that might make the small increase in price worth it for many consumers.
One of the most obvious changes is the fact that the Optix G27C4 is a curved display. With a 1500R curve, this model from MSI offers a more comfortable and immersive viewing experience. The viewing experience will also be highly elevated by the use of a VA panel, which increases the contrast ratios of the display, and improves the viewing angles. The peak brightness, while slightly lower, is still adequate for a budget display.
Key Specs: Screen Size: 27″ // Resolution: 1080p // Panel Type: VA // Refresh Rate: 165Hz // Response Time: 1ms
The other key improvement is the slightly higher 165Hz refresh rate. For gamers with a keen eye and who have a PC that will be able to generate that many frames every second, it should lead to an even better gaming experience.
Overall, the MSI Optix G27C4 is a great budget 1080p monitor, and a great way to experience a curved display at a budget. It's also a great testament to how many amazing features can be included into such a relatively cheap display nowadays.
Pros
Very affordable curved display
High 165Hz refresh rate
Great contrast ratio
Cons
Low peak brightness
Limited stand adjustments
Buy the MSI Optix G27C4 on:
3. AOC Gaming C27G2ZE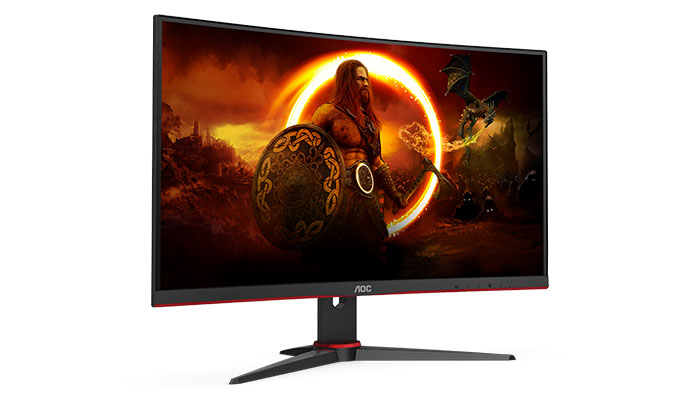 The AOC Gaming C27G2ZE is a fantastic step-up monitor. It retains the 1500R curve of the MSI Optix G27C4, while also introducing many exciting new features.
The C27G2ZE is a 27-inch, 1080p display like the previous models mentioned in this roundup, but one large difference is the 240Hz refresh rate. When paired with a powerful-enough PC that can provide that many frames per second, this display becomes one of the most affordable ways to experience smooth 240Hz gaming. This makes the C27G2ZE ideal for competitive gaming at a high level, but that doesn't mean that the overall image quality isn't great either. All of that while AMD FreeSync eliminates tearing for an even better experience.
Key Specs: Screen Size: 27″ // Resolution: 1080p // Panel Type: VA // Refresh Rate: 240Hz // Response Time: 0.5ms
With a peak brightness of 300 nits and the great contrast ratios one can expect from a VA panel, the C27G2ZE will offer a fantastic and very immersive viewing experience for a 1080p monitor. The great coverage of the sRGB, Adobe RGB, and NTSC colour spaces improves content consumption further by creating an image full of vivid colours. Its specs are even good enough to make it a great starting monitor for content creation and editing as well.
All those features combined make the AOC Gaming C27G2ZE a great value gaming monitor. The high refresh rate and great colour accuracy make it a fantastic potential centrepiece to a budget multifaceted gaming and media production PC setup.
Pros
Fantastic colour coverage
Very high refresh rate
Affordable curved display
Cons
Peak brightness could be higher
No native G-Sync support
Buy the AOC Gaming C27G2ZE on:
4. Samsung Odyssey G4 25″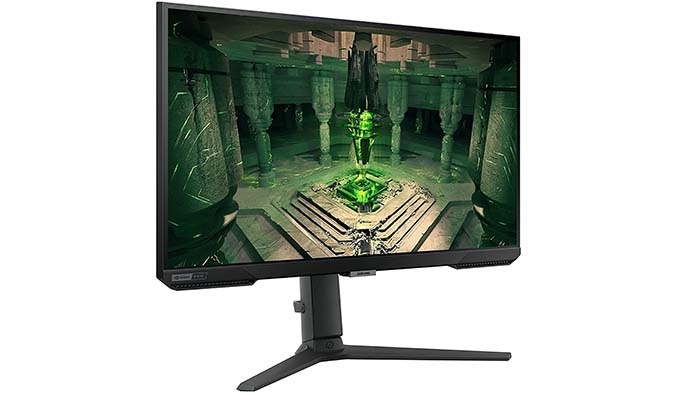 The 25-inch variant of the Samsung Odyssey G4 features the expected Samsung quality, all at a very attractive price. Despite the smaller size compared to other displays in this roundup, it still offers many competitive features. In fact, the smaller size might prove essential to some potential buyers, looking for a smaller display that will better fit their desks.
The Samsung Odyssey G4 features a 1920×1080, 240Hz panel, which once again provides good image clarity and some of the highest levels of image smoothness available right now. The display isn't curved however, making this a great alternative for anyone not wishing to commit to a curved display.
Key Specs: Screen Size: 25″ // Resolution: 1080p // Panel Type: IPS // Refresh Rate: 240Hz // Response Time: 1ms
Samsung choosing to go for an IPS panel results in lower contrast ratios, but an amazing viewing experience regardless. While the colour accuracy might not be as great as other displays at a similar price point, there are certainly other features that make the G4 stand out. The high peak brightness of 400 nits is enough to give this display official HDR10 support, making the Odyssey G4 a very affordable way to experience HDR content.
Finally, the Odyssey G4 also features support for both Nvidia G-Sync and AMD Freesync technology, meaning consumers with graphics cards from both Team Green and Team Red will be able to enjoy a tearing-free experience.
Despite the smaller size, the Samsung Odyssey G4 is still as feature-rich as other larger displays in this roundup. The very high refresh rate will make it very appealing to gamers, while still holding its own in other uses.
Pros
Very high refresh rate
FreeSync and G-Sync support
HDR10 Certified
Cons
Small screen size
Weak colour accuracy
Buy the Samsung Odyssey G4 25″ on:
5. ASUS TUF Gaming VG27WQ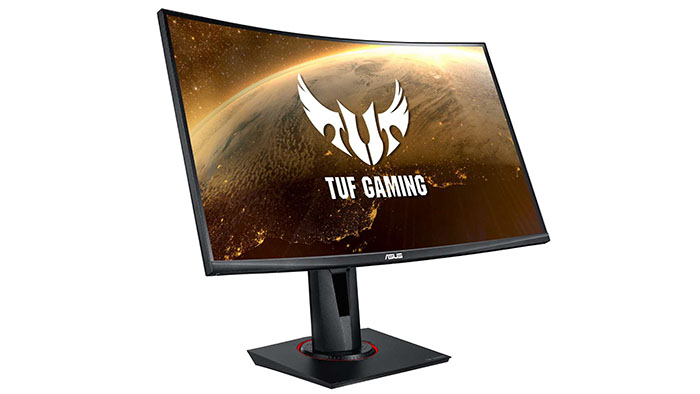 The ASUS TUF Gaming VG27WQ truly shows off how much can be done with a monitor for under $300. One of the most obvious improvements in this monitor compared to previous ones in this roundup is the increase in resolution. The 2560×1440 resolution found on this display is often considered the 'sweet spot' by many, balancing great image quality, with solid gaming performance.
Key Specs: Screen Size: 27″ // Resolution: 1440p // Panel Type: VA // Refresh Rate: 165Hz // Response Time: 1ms
The high resolution isn't the only thing contributing to the overall viewing experience that the VG27WQ offers. It is yet another curved panel that will help provide a more comfortable and immersive experience. The VA panel offers great contrast ratios, all while still boasting great sRGB colour coverage. Finally, the peak brightness is rated at 400 nits, enough to give this display HDR 400 certification. All of that combined turns this into a monitor that offers staggering levels of detail and a very vivid image for a very affordable price.
Refresh rate isn't left behind either though, as the VG27WQ is made for up to 165Hz gaming. That will offer more than enough refreshes every second for most consumers, as 165Hz is about right for a mid-range gaming PC running at 1440p. In addition, the support for FreeSync also means consumers will be able to enjoy that gaming experience without screen tearing.
For a monitor under $300, the ASUS TUF Gaming VG27WQ offers some of the best image quality for that price. Be it for media consumption, media production, or gaming, it's very flexible due to its strong set of features across the board.
Pros
Higher 1440p resolution
HDR400 rating
Great contrast ratio
Cons
Lack of native G-Sync support
No FRC support
Buy the ASUS TUF Gaming VG27WQ on:
6. Acer Nitro VG280K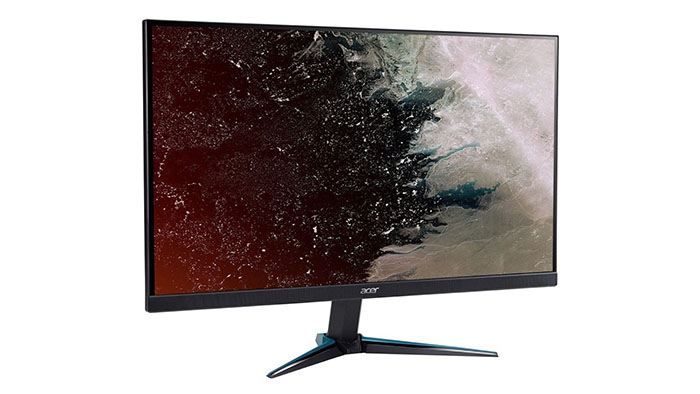 For consumers looking for an even sharper image quality at a reasonable price, the Acer Nitro VG280K is a great option. Despite its low price, it features a 4K, 28-inch panel. It will provide extreme amounts of detail when compared to lower resolution 1080p or 1440p monitors.
Given the high resolution, the refresh rate has been scaled back to 60Hz. While disappointing to some, it does make sense given the high performance penalty that 4K brings. For those more interested in image quality rather than high refresh rates when gaming, this trade will most likely be worth it. The use of FreeSync will also ensure that tearing won't be interfering in gameplay.
Key Specs: Screen Size: 28″ // Resolution: 4K // Panel Type: IPS // Refresh Rate: 60Hz // Response Time: 1ms
Apart from it being a 4K display, the panel on the Acer Nitro VG280K packs several more features to help make the image pop. The IPS panel allows for great viewing angles and accurate colours, while the 300 nits peak brightness is enough for HDR10 certification. Even if it's not bright enough for it to make the most of all HDR content, it's still a very welcome addition at this price.
The Acer Nitro VG280K proves that fantastic 4K displays are possible for under $300. For consumers who don't require such a high resolution and would prefer a higher refresh rate, this monitor might not be worth it. For those however who wish to experience high-resolution gameplay or media consumption at the lowest price possible, this display is one of the best ways of doing just that.
Pros
4K resolution
Uses an IPS panel
HDR10 support
Cons
Only 60Hz refresh rate
Peak brightness could be better
Buy the Acer Nitro VG280K on: