Introduction
Spooky season is well underway, and with that comes lots of games full of jump scares and mythical monsters. If trick-or-treating or watching the same film on repeat is not going to cut it this year, then gaming is a great way to up the fear factor.
But now, you may be wondering what game you should play? Luckily for you, we've scoured the web to find the best Halloween games to play this October.
Whether you are looking to explore an abandoned manor, or just fight some bad guys, this list has a game for you.
Suggested Article: The Biggest Games Set To Launch Before The End of 2022
Resident Evil Village
Since releasing in May last year, Resident Evil village has been considered one of the best Horror games you can play right now. The 8th installment of Capcom's iconic series continues the story of Ethan Winters, as well as the franchise's recent switch to a first-person perspective.
In Resident Evil Village, you will encounter plenty of gruesome foes, and with the POV view, you get to see the gory details up close. Like other games in the series, you will need to be cautious of ammo and supplies.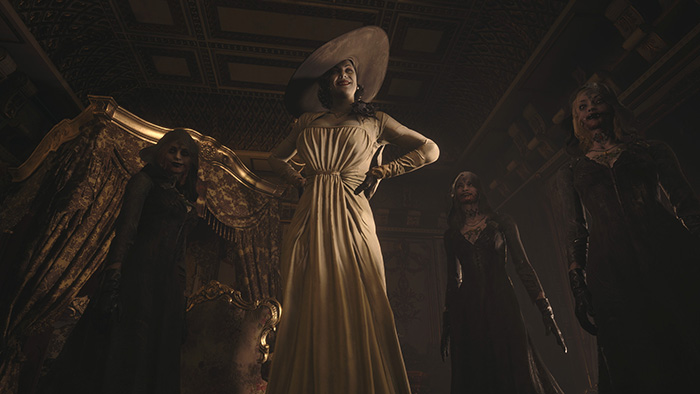 And just in time for Halloween this year, Resident Evil Village will be receiving bonus content in the form of the Shadows of Rose expansion. If you are looking for a chilling experience full of menacing monsters, then Resident Evil Village is a great choice.
Buy Resident Evil Village for PS5/PS4/XB on:
Gotham Knights
When you think of Halloween, there are two things that come to mind, monsters and villains. But if ghouls and goblins are not to your liking, then going toe to toe with bad guys is a less frightening way of getting into the spooky spirit.
Batman arguably has the best rogues gallery in superhero history, with the likes of Harley Quinn and The Joker constantly causing chaos in Gotham. But what would happen to these Villains if Batman was no longer around?
Well, in Gotham Knights, Batman has died in mysterious fashion, leaving the fate of the city to his 4 trusty sidekicks. Playing as Red Hood, Nightwing, Batgirl, and Robin, you will have to carry on the Dark Knight mantle whilst also unraveling the mystery of Bruce Wayne's unexpected demise.
As a spiritual successor to the Batman Arkham series, Gotham Knights looks like an action-packed title that will include plenty of interactions with iconic Batman villains. Also, the main adversaries in this upcoming title are the Court of Owls, who will be making their video game debut.
Gotham Knights is set to launch on October 21st, making it the perfect pickup for gamers looking to fight crime on a day where evil forces are at large.
Buy Gotham Knights for PS5/XBS on:
Bayonetta 3
Bayonetta is one of the many franchises to benefit from appearing in Nintendo's Super Smash Bros. Showing up as a playable character in the 3DS and Wii U version, Bayonetta quickly became a fan favourite. And after 8 years away, the Bayonetta series is finally getting another instalment.
If you have never seen footage of the Bayonetta games, then prepare to be bamboozled. The best way to describe it is a hack and slash adventure filled with witchcraft and mythical beasts.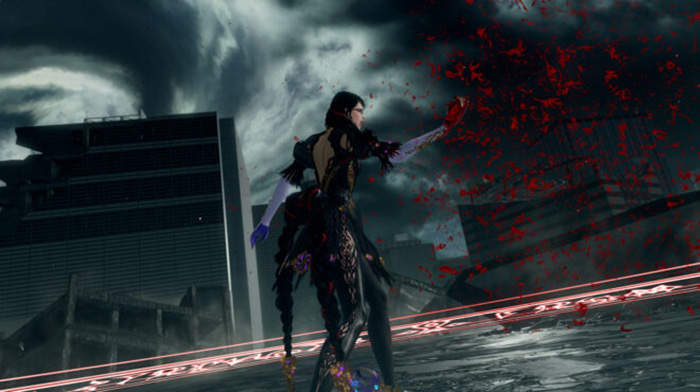 The story and fights in this game are absolutely hectic, but the mechanics are complex enough to let you control the chaos. Whilst you will spend a lot of time playing as the Witch that the series is named after, Bayonetta 3 will also let you play as Viola, a witch-in-training.
Another game arriving just before Halloween, Bayonetta 3 releases on October 28th and is exclusive to Nintendo Switch. A solid choice for anyone looking to unleash some carnage.
Buy Bayonetta 3 for NS on:
Scorn
When I first saw the game play for Scorn, the immediate reaction was to turn away in disgust. The gory imagery was a lot to process and took me by surprise, but then it was hard not to look at the horrid details. So what better way to spend Halloween than being grossed out the entire time?
Scorn is a first-person horror game set in a strange world that is plastered with art and architecture of a human-like species. You will be alone in this mysterious world as you explore the creepy environment to figure out the secrets of the unknown beings.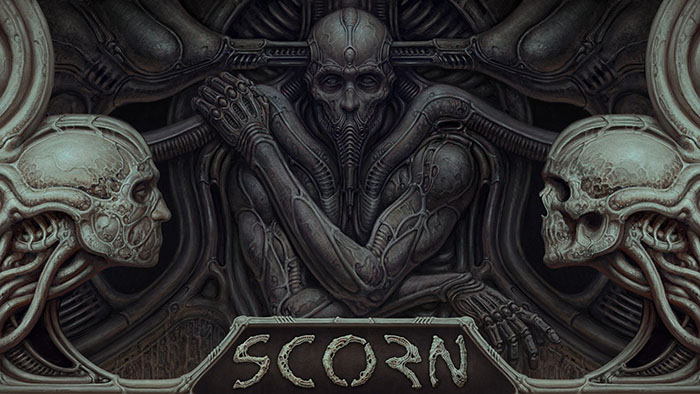 Whilst anyone that is even slightly squeamish should avoid this game, those of you that love guts and gore will feel right at home in the Scorn universe. Scorn has recently released on Xbox and PC, and is also available on Xbox Game Pass.
Buy Scorn for Xbox on:
Cult of the Lamb
This indie title took the world by storm when it released in August this year. This rogue-like, strategy, life simulator mash-up has a fantastic art style that is supported by some wild mechanics.
Cult of the Lamb may look cute and cuddly, but there are plenty of devilish undertones. You play as a lamb that has been given a second chance at life by a deity known as The One Who Waits. As part of the deal, you have been tasked with starting a cult in his honour.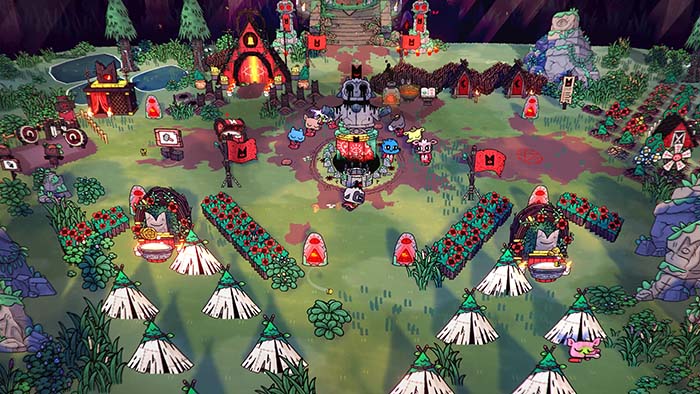 To spread the message and keep the cult alive, you must recruit new members, take on your enemies, and make plenty of ritual sacrifices. These tasks are achieved by a variety of methods, which makes Cult of the Lamb feel like a weird hybrid of Hades and Animal Crossing.
Cult of the Lamb is available on all platforms, and is relatively cheap compared to the other options on this list.
Buy Cult of the Lamb for PS/Xbox/PC/NS on:
A Plague Tale: Requiem
Set in a dark medieval world riddled with plague and war, A Plague Tale: Requiem is a sequel to the narrative driven stealth game, A Plague Tale: Innocence.
In this journey, you will follow Amicia as she tries to help her younger brother deal with his supernatural curse. Along the way, there will be plenty of obstacles that you have to get past in order to start a new life. Requiem has improved some of Amicia's abilities to combat this, but sneaking around and causing distractions is still the main strategy.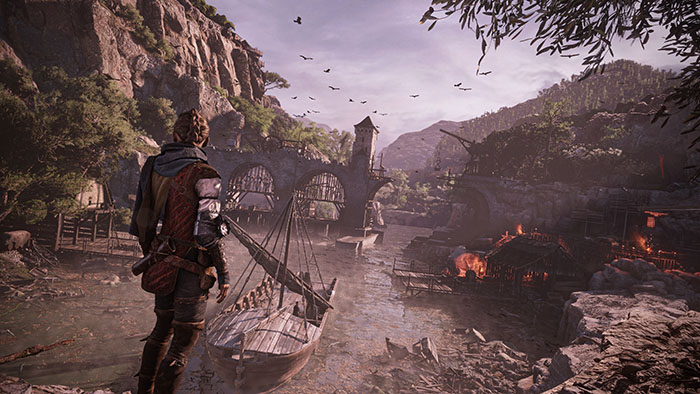 A Plague Tale: Requiem is an ideal choice for anyone that wants a cinematic single-player experience set in a dark and gruesome world manipulated with mystical forces. It will be available Xbox and PC, including and will be ready to play day one on Xbox Game Pass.
Buy A Plague Tale: Requiem for PS5/XBS on:
The Quarry
Murder Mysteries are a classic sub-genre of media that are naturally tense. Whodunits are a horror trope that fit perfectly into the world of gaming. The interactive aspect unlocks the ability to manipulate these traditional stories so that a player's actions have dire consequences.
One of the most recent examples of these horror games is The Quarry. As an interactive story, this game is the closest you will get to a traditional film, but with the ability to choose the fate of the characters. Supermassive games are widely known for their previous game, Until Dawn, a game that The Quarry draws a lot of inspiration from.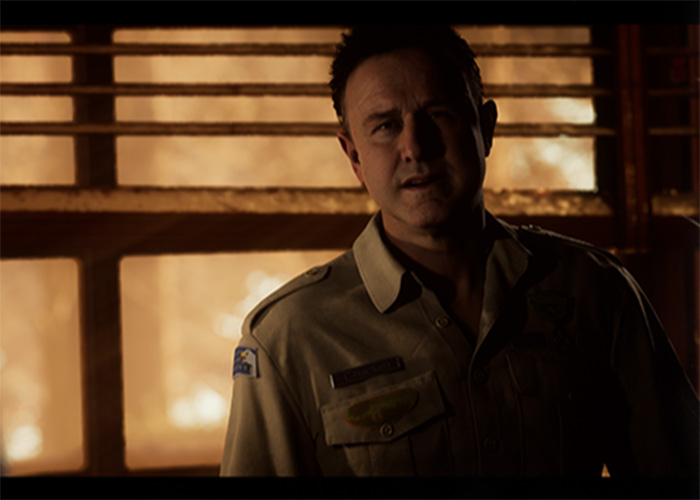 In The Quarry, you follow a group of camp counselors as they celebrate their last day at Hackett's Quarry. However, the party takes a dark turn as soon as the sun goes down. As the story progresses, you will have to make some difficult decisions to determine who will survive the night.
For anyone looking to shake up their traditional Halloween horror movie night, The Quarry is the best this year's best option.
Buy The Quarry for PS/Xbox on: