Yesterday was a busy day for gaming news as both PlayStation and Nintendo held their big showcases on the same day. To no surprise, these conferences were packed with updates on upcoming releases, as well as exciting reveals for brand-new games for 2024 and beyond.
If you haven't had the chance to catch up on either the Nintendo Direct or PlayStation State of Play, then don't worry, as we've put together a list of the biggest announcements from both livestreams. Plus, a sneaky bonus update on one of the most anticipated sequels for this generation.
Nintendo Direct Highlights
Nintendo were up first, with a Direct that supposedly looked at games set to release in the earlier half of 2024. Unfortunately, this meant there would be no news on the heavily rumoured 'Switch 2'. Instead, fans were treated to a number of details for upcoming releases, as well as a number of unexpected remasters for beloved titles.
Paper Mario: Thousand Year Door HD Remaster
This presentation's big 'one more thing' announcement was not what I was expecting, as Nintendo revealed that Paper Mario: The Thousand Year Door would be getting a visual overhaul for Switch. This game originally released on the GameCube in 2004, being praised for its unique style which provided a fun twist to the Mario franchise. This title was given a vague release date of 2024 and adds to the abundance of remasters set to come to the platform in the next 12 months.
F-Zero 99 Revealed
Perhaps my favourite announcement from yesterday's Nintendo Direct was the unveiling of F-Zero 99, which is available right now for NSO customers. This game follows a similar premise to Tetris 99 and the limited-time Mario 35, where players battle it out to be the last one standing. F-Zero has been dormant for a long time, so it's nice to see it back in the spotlight. I've never played an F-Zero game, but Captain Falcon is one of my favourite characters in Smash Bros, so I'm excited to give it a try!
Details on Princess Peach: Showtime
After decades of being the damsel in distress for everyone's favourite plumber to save, Princess Peach is finally taking the spotlight in her own adventure. Whilst we already knew about this game thanks to a previous Direct in June, we got some additional details here, including an official title and release date. Fans can expect to get their hands on Princess Peach: Showtime on March 22nd, 2024.
New Mario vs Donkey Kong
Our final highlight from Nintendo's showcase was actually the first reveal during the presentation, where Nintendo unveiled a new Mario vs Donkey Kong title was coming to the Switch next year. This series first gained traction on the Game Boy Advance, with roots all the way back to the original Donkey Kong that made both characters into the stars they are today, but there hasn't been a new title for quite some time. However, fans of the Puzzle platformer can play the newest version in February 2024.
Other announcements included a HD remaster of Luigi's Mansion 2, more information on Super Mario RPG, the Tomb Raider trilogy coming to Switch, and a look at Splatoon 3 DLC.
PlayStation State of Play Key Announcements
Later on in the day, or the next day depending on where you were watching, it was PlayStation's turn to show us their plans for the rest of the calendar year and beyond. Whilst this presentation was slightly shorter than Nintendo's, it was still packed with plenty of scoops for gamers to be excited about.
Final Fantasy VII Rebirth Release Date
Arguably the biggest announcement during this presentation, the highly-anticipated sequel to the Final Fantasy VII remake got a release date. The original Final Fantasy VII is one of the most popular games of all time, and Square Enix's newest rendition of the tale has gained a similar reception. Whilst fans were left slightly bewildered by the ending to the first game, they won't have to wait long for answers, as Final Fantasy VII Rebirth is set to release on February 29th 2024.
Spider-Man 2 Details
PlayStation's biggest first-party release of 2023 is almost here, and Sony gave us a glimpse of what we can expect when Spider-Man 2 arrives in October. In this presentation, we got a detailed look at the expanded map of New York, as well as a first look at some of the costumes you can pick up for both of your favourite webslingers. This glimpse at Peter and Miles' latest adventure has me excited for their latest adventure.
Deep Earth Collection Faceplates
PlayStation took some time away from the game announcements to reveal a new set of accessories for the PS5. Their new Deep Earth collection comes in a metallic red, blue, and silver, with both faceplates and matching controllers available for purchase. These new colourways are set to arrive later this year, with pre-orders going live on October 4th.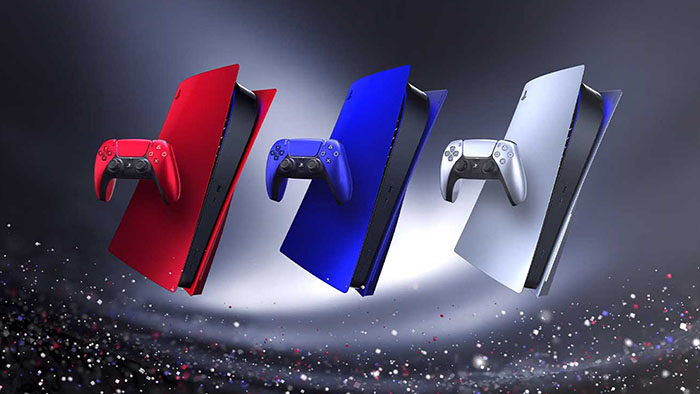 Resident Evil 4 DLC and PSVR2 Mode
The remake of the beloved Resident Evil 4 was one of the biggest releases earlier this year, and now we finally have details on some additional content. Resident Evil 4 Separate Ways is set to release next week, where players will get to play as Ada Wong, who shows up in the main story. In addition, Capcom revealed that a VR Mode will be coming to the game this winter, meaning gamers can experience the horror up close.
Some other key announcements included an Open Beta for Foamstars, more details on Ubisoft's Avatar: Frontiers of Pandora, and a new Ghostbusters game heading to VR.
Bonus Announcement
Hades II Update
Whilst it didn't appear in either of the presentations from PlayStation or Nintendo, one of the most exciting announcements came from Supergiant Games, who posted an update regarding the highly-anticipated Hades II. In the update, the developers confirmed that Hades II will be launching on early access, just like its predecessor, arriving at some point in Q3 2024.
This is slightly later than the 2023 release date that was given to the game when it was first revealed at The Game Awards 2022, but fans will be willing to wait if it means this title lives up to the original. Supergiant also reiterated that Hades II is now available to wishlist on Steam and Epic Games, meaning users can be in the loop for when this game is finally available to play.